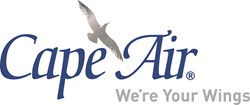 "This promotion offers a discount off the regular price, which is already a tremendous value at $50.00 each way."
Bob Whitmer, Airport Mgr.
Owensboro-Daviess County Reg. Airport
Owensboro, KY (PRWEB) September 03, 2013
Travelers flying between St. Louis and Owensboro in September have been given a unique opportunity to save on future travel. Cape Air is running a special promotion that will allow full fare passengers flying between Owensboro and St. Louis from September 1-30 the opportunity to purchase $29.00 each-way tickets valid for travel in November and December.
"Cape Air is always coming up with creative ways of introducing people in our region to the flights they offer between Owensboro and St. Louis," said Bob Whitmer, Airport Manager at the Owensboro-Daviess County Regional Airport. "This promotion offers a discount off the regular price, which is already a tremendous value at $50.00 each way."
"Cape Air takes pride in providing high-quality, affordable air service, and is delighted to provide this special savings opportunity to the Owensboro community, which has been so supportive of our service since day one," said Linda Markham, President of Cape Air.
The $29.00 fare can be booked only from September 1-30 and can be used to purchase tickets for any date in November or December, with the exception of November 27-30. Once full-fare travel has been booked for September, the $29.00 fare can be booked by calling 1-800-CAPEAIR, or by visiting a Cape Air agent at the Owensboro-Daviess County Regional airport, Lambert-St. Louis International Airport or at the Cape Air ticket office, located at 109 East 2nd Street in Owensboro. The $29.00 fare will not be available for purchase on the web. Please note that this promotion is for full fare travelers only. Commuter book or award ticket holders flying in September are not be eligible for the $29.00 fare in November or December.
Cape Air has been serving the Owensboro market since December of 2011 and provides three daily round trips to St. Louis on weekdays and two daily round trips on weekends.
About Cape Air:
Now in its 24th year, Cape Air is one of the largest independent regional airlines in the United States annually flying over 700,000 passengers to destinations around the world including New England, New York, the Caribbean, Florida, the Midwest and Micronesia. With a fleet of seventy-four Cessna 402s and two ATR-42s, the employee-owned company operates up to 850 flights per day. Based in Hyannis, Massachusetts, Cape Air also operates flights under the Nantucket Airlines brand. Cape Air is a codeshare partner with United Airlines and American Airlines in the Caribbean and American Airlines in the Midwest. In Micronesia Cape Air operates as United Express. In addition, Cape Air has ticket and baggage agreements with most major airlines. Cape Air's unique brand of customer service, MOCHA HAGoTDI,* has earned the airline accolades as 'Best Airline' on Nantucket, Martha's Vineyard and in the United States Virgin Islands. The airline has been recognized for outstanding philanthropy in the communities it serves and Cape Air Founder and CEO Dan Wolf was recipient of the Ernst & Young Entrepreneur of the Year™ Award.