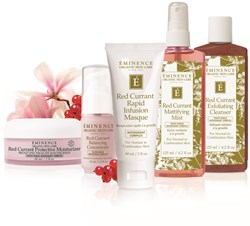 These preventative products will help skin maintain its youthful radiance for years to come.
Vancouver, BC (PRWEB) September 03, 2013
Éminence Organic Skin Care (eminenceorganics.com), the leader in organic skin care, is excited to announce the launch of their Youth Shield Collection. This new collection of skin care is formulated to protect against the early signs of aging using an exclusive Youth Shield Antioxidant Complex that balances and protects the skin while fighting free radicals – the leading cause of fine lines and wrinkles. Naturally derived from red currant, elderflower and magnolia bark, the Youth Shield Antioxidant Complex is proven to give dramatic results in just 28 days.
Results include:

36% increase in skin hydration
11% enhancement in skin vitality
10% improvement in skin elasticity
The innovative Youth Shield Collection offers a proactive approach to skin care and focuses on the preventative steps before the early signs of aging take hold, while tea tree keeps blemishes at bay.
"Your skin thrives on hydration, nutrients and nourishment. How we treat it today greatly impacts its health and radiance tomorrow," says Boldijarre Koronczay, President and Founder of Éminence. "Many people wait until the visible effects of aging skin start to show before they seek treatment, but a good skin care routine is crucial to skin at all ages. We have created Youth Shield to help people protect their skin from influential factors that can lead to aging skin. These preventative products will help skin maintain its youthful radiance for years to come."
The Youth Shield Collection is comprised of age preventative products for normal to combination skin types. The products include: Red Currant Exfoliating Cleanser, Red Currant Rapid Infusion Masque, Red Currant Balancing Concentrate, Red Currant Protective Moisturizer with Broad Spectrum SPF 30, and Red Currant Mattifying Mist.
Available now at select spas, salons, resorts, and authorized online retailers. Visit eminenceorganics.com for more information.
About Éminence Organic Skin Care
Éminence Organic Skin Care is the award-winning provider of the most effective skin care products in the natural and organic skin care industry. With more than half a century of herbal craftsmanship and innovation, and several centuries of unsurpassed skin rejuvenation techniques unique to Hungary, we offer the highest quality natural skin care to leading salons, spas and their clients in more than 24 countries around the world. Our superior spa treatments and products rely on a unique combination of hand-picked fresh ingredients. Vitamins are captured in their all-natural fresh base, offering dramatic results as actual seeds, pulps and peels begin the regenerative and healing powers that only nature can produce. Voted "Favorite Skin Care Line" by spa professionals and seen as Hollywood's skin care secret, with devoted fans such as Madonna, Jessica Biel, Katherine Heigl, and Mark Ruffalo, we are renowned for premium organic skin care that enhances your well-being naturally. Our commitment to the environment is integral to our business practices and we strive to create products that are good for the earth as well as good for the skin. By enlisting wind and solar power energy in the making of products, recyclable packaging with vegetable-based inks, geothermal heating in the laboratory, an eco-alternative design of our head office we do all that we can to combat climate change. Starting in the fall of 2012, our Forests for the Future initiative brought our commitment to the environment to a whole new level by planting a tree for every product sold.
Media Contact:
Elisa Kosonen
ekosonen(at)eminenceorganics(dot)com
+1.604.505.3103