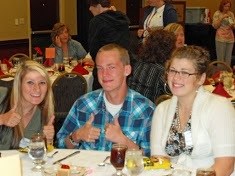 Over 50% of those who work in the Direct Care field enter and leave within the first year of employment.
Altoona, Iowa (PRWEB) September 01, 2013
Iowa's burgeoning older and special needs population has created a demand for 20,000 more direct care workers by 2020. Unfortunately, Iowans face a real challenge to keeping direct care workers in the field. Over 50% who work in the field enter and leave within the first year of employment. This situation is creating a critical gap in services and threatens the safety and well-being of Iowans needing services. Working to change these disturbing statistics, the Iowa CareGiver's is hosting its 19th annual conference, "Going the Distance".
Held on September 23rd & 24 2013, the two-day event offers sessions on over 20 topics designed for Home Health/Care Aides (HCAs), Certified Nurse Assistants (CNAs), Personal Care Attendants (PCAs), Consumer Directed Attendant Care (CDAC) Workers, Direct Support Professionals (DSPs), Patient Care Technicians (PCTs), Hospice, Medication, and Rehabilitation Aides, and family caregivers.
"These hard working caregivers are given two days to breathe, improve their knowledge, enhance their skills, and network with others in the field," says Pam Biklen, Program Director.
Attendees are expected from across Iowa and neighboring states, and the event will be held at The Meadows Events and Conference Center.
"It takes training, conditioning, and a lot of passion to go the distance as an athlete. It is much the same for those who work in direct care. Training, education, experience, and passion are vital to providing the best care and support to Iowans," said Pam Biklen, Program Director. A luncheon on the 23rd will also pay tribute to all participants for their service.
In addition, free health screenings will be provided onsite by Des Moines University Physician Assistant Program, Polk County Health, Iowa Dental Hygienist's Association, and other community service providers.
Iowa Caregivers is an independent nonprofit organization that exists to ensure that all Iowans receive good care and support when and where they need it. They do that by serving the needs of those who provide most of the hands on care and support...the direct care workforce. The mission is to enhance the quality of care by providing education, recognition, advocacy, and research in support of those who provide direct care.