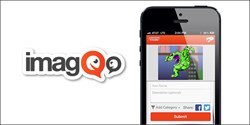 Restricting the app to one of the three major platforms is not an option.
Las Vegas, Nevada (PRWEB) September 03, 2013
Back in May, Las Vegas tech start up Imagoo released their finished picture comparison app, ready to be downloaded on the Apple store. Since then, the app has consistently grown in number of downloads with an ever increasing number of daily active users. This highly stylized app has a strong following for only having been released on one platform five months ago. Every time a user jumps on the app they are voting an average of 15 times. Once a user signs up, there is 88% retention to come back within 30 days and continue using the app. Just within the last three weeks, the daily active users, a critical number to crunch, has quadrupled. July 28 to August 28 indicated a 40 percent growth in signups versus the previous monthly period. What does that mean? Substantial growth for a fresh and exciting app.
However, something has been in the works to fill a void that Imagoo experienced: an Android market app. There is huge motivation to dip into the Android market as solely focusing on Apple users closes off Imagoo from a large portion of the market they're interested in. Imagoo's targeted user base being eighteen to twenty five year olds means up to fifty percent of their market uses Android devices. With a late August release of this new version, Imagoo looks to dive into the millions of people utilizing Android devices and begin targeting a user base there. The simple availability of this market makes this an incredibly worthwhile endeavor.
Imagoo felt mounting pressure and incentive in investing in an Android app due to months of interactions with Android users who were disappointed in the lack of an Imagoo Android app. Recent partnerships with celebrities such as YouTube sensation PewDiePie have further pushed the need for such an app. Going to events and talking to people interested in the creativity of the app cemented the need. People demanded the app make the jump to the Android market and Imagoo felt the dreaded dead end when potential users revealed they had an Android device. By pitching the app and trying to reach out to untapped user bases, Imagoo looks to diversify the availability of their app. The bottom line for Imagoo is how important trying to capture that legitimate fifty percent of the market is.
One goal for Imagoo and this new release is to continue to grow the user base at a sustainable rate. Restricting the app to one of the three major platforms is not an option. Having Imagoo on an Android device will help the app to localize by putting it in different languages due to the availability of the market share outside of the United States. Additionally, having such an app will help implement new strategies for the app such as receiving more feedback for different features. With ranking and point systems in the works for Imagoo, capturing a bigger percentage of the market means being able to better align the app with user's needs and expectations.
Imagoo expects the new version of the app to raise the number of sign ups exponentially. Within two months, the team at Imagoo anticipates 40 to 50 percent of total users to be using the Android version. A final motivating force to release an Android app is the competitive edge it gives Imagoo. Other picture comparison apps such as Seesaw, Loop, Voto, and Polar do not have Android versions of their app.