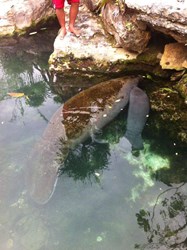 Manatee in Xel-Há Park
Cancún, Quintana Roo, México (PRWEB) September 02, 2013
Marine life experts have successfully achieved the reproduction of a manatee and presented to the public a female baby manatee that has survived the critical stage of her first 6 months of life after being born in Xel-Há, eco-park located in Cancun and the Riviera Maya by Experiencias Xcaret.
The baby manatee is called Nicté, which means flower in the Mayan language. She was born weighing 36 kilograms and now weights 76, said the specialist Rafael Cruz Valdes, Head of the Marina Fauna program at Xcaret Park, Xel-Há's sister park in Cancun and Riviera Maya.
The survival story of Nicté becomes even more special for her caregivers because her parents Mach and Baxal arrived as babies to the Xcaret and Xel-Há Parks after being rescued from dire conditions. Special care had to be given to both to assure their survival. In both cases, the deterioration of their native habitat was the reason these manatees were found in distress and taken to the Experiencias Xcaret Parks to be rescued and given a chance of survival.
Nicté's parents were "hand-reared" proudly comments Ana Negrete, the medical veterinary at Xcaret who has worked with this and other species for several years. Mach and Baxal were bottle-fed by staff when they arrived to the parks and this special care has allowed for both to grow into healthy adults who have now given birth to Nicté. For unknown reasons, Baxal, the mother, refused to feed her young and breeding was handed to the care of professionals to ensure Nicté survived her critical 6-month stage.
The manatee (Trichechus manatus) is a marine mammal that during adulthood can weigh up to 500 kg. The species inhabits inland waters, such as lakes and streams, of Mexico and Central America. The deterioration of their ecosystem is under serious distress and has caused the decrease of the species, placing the manatee in the list of endangered species.
Xel-Há Park
Xel-Há Eco-Park is the best place to snorkel and see marine life in a special place: more than 14 acres of inlet where the Caribbean water unites with the longest system of underground rivers in the Yucatán Peninsula. This combination of salty and fresh water houses several ecosystems for a truly surprising snorkel. Hundreds of colorful fish and 200 marine species make Xel-Há a privileged world to visit and enjoy.
More information:
Iliana Rodríguez
Chief P.R. and Communications Officer
sfernandez(at)experienciasxcaret(dot)com.mx
Mobile: 044 (998) 845-5644