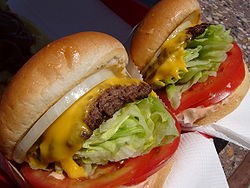 Buying healtheir food and groceries from online services is becoming a real trend.
Los Angeles, CA (PRWEB) September 03, 2013
BluePromoCode.com, a leading marketplace for coupons and deals, today announced the results of a newly commissioned study. The study was sent to 100 adults with kids living at home and asked questions about their shopping and eating habits.
Highlights of the findings include:

Families are eating fast food more often than – 29% eat out two or more times per week
Men are not eating healthier – only 52% reported healthier eating habits in the last year; 78% for women
The top reason families buy fast food is because it saves them time (68%)
Nearly half think organic foods are too expensive and 24% don't believe the health benefits are worth the extra cost
14% have purchased groceries online
Wealthier families purchase groceries online more often – 24% with HH incomes over $150k
The BluePromoCode study shows that 29% of families are eating out more than once per week yet a recent study by Monmouth University showed that only 15% of US adults are eating out more than once per week. The study found that "saving time" was the most popular reason for eating fast food and that 14% have bought groceries online, another indication of being stretched for time.
"Families are the ones that are the most time and financially-constrained," said Michael Quoc, CEO of BluePromoCode. "Buying groceries online and using readily-available coupon codes can be a big help to families at both ends."
The study also asked about shopping habits for organic foods with nearly 50% stating that they're "too expensive." Similarly one-in-four don't believe the health benefits were worth the extra cost and 10% didn't believe organic foods were really "organic".
The complete study with more in-depth results can be found at reports.bluepromocode.com. For the latest coupons for online food delivery at stores such as PeaPod.com, Plated.com, Seamless.com and others visit http://www.bluepromocode.com.
About BluePromoCode.com
BluePromoCode, based in Los Angeles, is a leading coupon search engine used by millions of consumers to help them save the most money on their purchases. The website partners with 12,000 retailers to bring over 100,000 coupons to its users and its editors hand-check coupon codes to ensure the highest quality ones rise to the top. BluePromoCode also offers personalized emails so members can receive the best deals for the brands they love directly in their inbox. Learn more at bluepromocode.com.
Survey Methodology
In August 2013, Zipfworks commissioned a study to analyze consumer trends and shopping behavior for families. Zipfworks surveyed 100 U.S.-based adults with kids currently in the home for a quantitative study with SurveyMonkey. Questions were randomized and related to their specific spending and eating habits. Participants were provided non-cash incentives for their participation.
Bluepromocode.com is a registered domain of Zipfworks LLC. All other domains, names and trademarks mentioned herein are property of their respective owners.