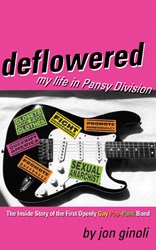 In the early 1990's—before "Ellen" came out, before "Bound," and before congress passed DOMA—Jon Ginoli founded Pansy Division, the first openly gay punk rock band.
(PRWEB) September 02, 2013
Susie Bright is the Editor at Large for Audible, and curates The Bright List to talk about the best of the best in audiobooks. She will be on the Derek and Romaine Show on Wednesday, September 4th at 9pm. The show broadcasts live on SiriusXM OutQ 109. Listeners and fans are welcome to participate by calling 866-305-6887.
Susie will be talking about producing the audiobook of Jon Ginoli's Deflowered: My Life in Pansy Division, which was narrated by Ginoli himself. The review on The Bright List for the audiobook describes it as, "The Pansy Division was part of a flowering of queer culture that led to the Queercore movement, ACT-UP, and Queer Nation. They toured with Green Day and won passionate devotees all over the world. Jon Ginoli himself narrates, with PANACHE!"
Deflowered: My Life in Pansy Division
By Jon Ginoli
The inside story of the first openly gay pop-punk band.
Deflowered is Jon Ginoli's journey of self-discovery, musical passion, and drive to become the founding member of Pansy Division, the first out and proud punk rock band to make the national scene.
JON GINOLI is a guitarist, singer, songwriter and founding member of Pansy Division, a gay punk rock band whose CDs include Undressed, Deflowered, Wish I'd Taken Pictures, and more. An Illinois native, he's played both dive bars and arenas, and his favorite color is purple.