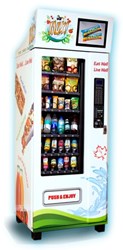 … consumers are thrilled to see nutritious drinks and snacks …
Vancouver, BC, Canada (PRWEB) September 04, 2013
In the wake of the banning of junk food from Canada Summer Games village in Sherbrooke, Quebec, Canadian Healthy Vending is excited to announce that over 1300 products are now available for their Max! Healthy Vending machines. Removing junk food from sports facilities, schools and workplaces does not mean eliminating product choice. Finding appropriate replacements for unhealthy snacks is not only important for young athletes, it is increasingly essential to meet the needs of people with a wide range of dietary requirements.
The number and variety of choices available to consumers seeking nutritious snacks is important because of the demand for specific products to suit certain health conditions in public workplaces, schools and recreation centres.
For example, many schools insist on a peanut-free environment in classrooms, hallways and playgrounds.
People who suffer from high blood glucose levels or even Diabetes want low- or no-sugar options. There has also been an increasing emphasis in the media on refined sugar being much less desirable than sugars naturally occurring in fruits and vegetables. Canadian Healthy Vending machines offer many juice options.
Other consumers are looking for gluten-free products, foods with less fat or snacks made from organic ingredients. Enter Green Cuisine Amasake Rice Beverages, Pop Chips and Theobroma Chocolate. "A lot of the product choices available through Canadian Healthy Vending may not be household names yet, but consumers are thrilled to see nutritious drinks and snacks and the level of excitement goes up when they realize they can read the nutritional information for these foods on each machine's high-resolution monitor," said Edward Thompson of Canadian Healthy Vending.
The number of products available is increasing monthly. With such a wide array of healthy products, operators can build menus that meet the needs of customers with a variety of products. Canadian Healthy Vending's Max vending machines help operators meet the needs of consumers by the most direct method—asking customers what they want. Another feature on each Max Machine is equipped with a Max Menu decal that allows a customer to use a smart phone or browser to make requests.
About Canadian Healthy Vending
Canadian Healthy Vending is a Vancouver-based vending equipment manufacturer and distributor with over 23 years experience in the Canadian vending industry and is the manufacturer of the Max! Healthy Vending Machine. Our Mission is to get healthy snacks and nutritious drinks into the hands of Canadian workers and students in every city and province across the country. The state of the art Max! Healthy Vending Machine features both cash and cashless payment systems in addition to a high resolution display monitor, which provides nutritional information on product offerings, and information on community health initiatives. To get more information about Canadian Healthy Vending visit canadianhealthyvending.com. To find out how to get a Max! Healthy Vending Machine at your workplace go to our website.