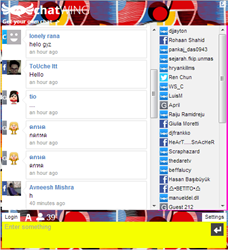 Boston, MA (PRWEB) September 01, 2013
As part of its latest stratagem, the Chatwing Team is extending its online support to people who are making new networks in Google. Based on the observations of the company, people are relying on the Google platform because it is fluid, dynamic, professional, and highly stable. With the latest chat app offered by Chatwing, web users can make new contacts in very little time. Apart from that, the chat tool comes with exclusive and useful features.
Chatwing's versatile chat software can be used in many niches imaginable. Once embedded in a website, it can increase visibility by a twofold; this will raise the popularity of a website and help people achieve many online goals. Google users who want to expand their networks can benefit from the Chatwing tool because it has a thousand-user capacity. Visitors will come and go, ready to offer different types of information. Based on the Chatwing team's observation, Google marketers and branding experts have started using the chatroom in its various forms.
The famous Chatwing form is the shoutbox style. In this mode, the chatroom takes a small portion of the website. This portion, often boxed, contains all of the messages of the visitors. This will also serve as the lounge for all of the website's visitors. The second form is the pop-up window. This form leaves only a small button—once clicked, it will launch a new window that will serve as a separate shoutbox. The latest form is the vanity URL. Now, users can create their own usernames and shortlinks. Commonly, this is used for private group chat purposes.
Since Google is a very famous social platform, Chatwing Team believes that the chat box will serve a grater purpose for web users. Making and keeping friends will become easier with an efficient chat tool that is always available for everyone.
About Chatwing.com
Chatwing.com specializes in the new field of live website chat software. Over years, the development team has introduced live chat widget for hundreds and thousands of blogs. The application bridges people from many parts of the world, creating global synergy through the Internet. The shout box can be installed in just seconds, and it can be used for varying purposes such as leisure and Internet marketing. It also allows a user to customize the size, color, and name of the widget.