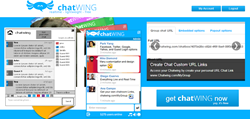 Cambridge, MA (PRWEB) September 02, 2013
Chatwing.com is preparing to launch its latest podcast site to help web users become more aware of a chat app's importance. The Chatwing chatroom podcast site will attempt to share videos that highlight the importance of web connectivity, blogging, using widgets, and social media interaction. Chatwing video tutorials are also imminent.
"In our newest podcast site, we will be sharing tons of videos. First, there are the tutorial videos on how to install our chat app. The installation process is easy and the videos will cover everything—from registration to actual chatbox setup," Says lead developer Mike Diamond. "Second, we will also share announcements regarding the latest trends of the month, or during the month before that. These trends, as we believe, are essential for website owners and bloggers who want to climb the ladder of online success."
The usage of Chatwing's premium chat software features will also be emphasized in the podcast site. The company's developers believe that the premium features can solve the social connection dilemmas of many website owners and bloggers. The current premium features include SSL, custom logo upload, custom subheader, avatars, and more background images.
Chatwing is making a grand forward step with the plan for its podcast site. This move has always been a part of the company's overall strategy for connecting people from different locations around the globe. Videos in the podcast site will also be shared in Chatwing's blogs and Facebook page.
About Chatwing.com
Chatwing.com specializes in the new field of live website chat software. Over years, the Chatwing team has introduced live chat widget for hundreds and thousands of blogs. The Chatwing application bridges people from many parts of the world, creating global synergy through the Internet. The shout box can be installed in just seconds, and it can be used for varying purposes such as leisure and Internet marketing. It also allows a user to customize the size, color, and name of the widget.