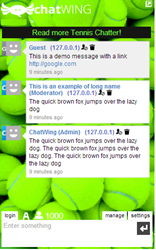 Chicago, IL (PRWEB) September 04, 2013
In relation to blogging, Chatwing Development Team shares the needed professional qualities. These qualities, imperative as they are, can guarantee the success of any chat room, yet it is meant for the long run rather than a short-term solution.
According to the Chatwing Team, the best qualities of competitive chat room moderators are:

Tech-savvy. Since this is the information age, Chatwing chat software developers believe that moderators should be tech-savvy. They must be capable of sharing technology tips, as well as ideas on how to use several applications.
Professionalism. This quality is also important in any chat box, since web users require attention. If their information needs are not met, there is a large tendency that they will never return to the website, affecting online traffic on a larger scale.
Camaraderie. Friendship is important in any website or chat room connection. Without the solid foundation of friendship, there will be no product or website exposure. The website owner or blogger must create a strong connection with his visitors.
For important updates and global tips, web users can pay a visit to Chatwing's official Facebook page. The developers will also post important notices regarding chat software updates.
About Chatwing.com
Chatwing.com specializes in the new field of live website chat software. Over years, the Chatwing team has introduced live chat widget for hundreds and thousands of blogs. The Chatwing application bridges people from many parts of the world, creating global synergy through the Internet. The shout box can be installed in just seconds, and it can be used for varying purposes such as leisure and Internet marketing. It also allows a user to customize the size, color, and name of the widget.