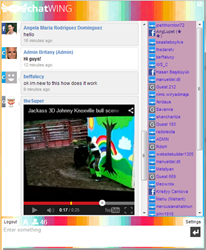 Seattle, WA (PRWEB) September 05, 2013
Chatwing.com steps again in the web tourism scene by creating a special chat app for the niche. In the newest tourism chat box, web users can share their reviews about top destinations of the world. Additionally, tourism blog owners can gain competitive traffic within few days of chat software usage.
"Premium features are the keys to the betterment of website chat," Mike Diamond has stated in one of his chat room sessions. "If a user will take all efforts in improving the connectivity rate and traffic of his website, online competition will become a breeze. The scenario is the same for tourism. Through responsive chatting, information will spread properly."
"Tourists who want to explore new places will gain the advantage of communication. It is a basic process that must be applied in all aspects. In a simple tour website, the chat software will help the web users relay their questions and suggestions. Moreover, the premium advantages can increase the tour website's branding initiative," Mr. Diamond added.
Chatwing.com has created dozens of chat apps with numerous variations. Within the span of five years, the company has developed strategies to help users gain penultimate communication. Tutorials about the chat software are available in Chatwing's Facebook page and Twitter account.
About Chatwing.com
Chatwing.com specializes in the new field of website chat. Over years, the Chatwing team has introduced live chat widget for hundreds and thousands of blogs. The Chatwing application bridges people from many parts of the world, creating global synergy through the Internet. The shout box can be installed in just seconds, and it can be used for varying purposes such as leisure and Internet marketing. It also allows a user to customize the size, color, and name of the widget.