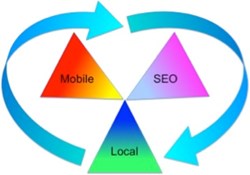 "I cannot believe that I got all of this marketing for a fraction of what I was paying my last SEO Company." -Tom Zanir
San Clemente, CA (PRWEB) September 01, 2013
Internet marketing giant Blackwood Productions recently launched a 'Local Search Engine Optimization' package designed for small- to medium-sized businesses looking to target customers in specific localities. By combining the three pillars of local search—mobile marketing, directory listing, and local search engine optimization—it helps clients attract consumers in particular neighborhoods, thereby boosting both in-store foot traffic and online sales.
"Many local businesses have zero online visibility in their own towns. They are losing millions of dollars in revenue because of this," explains Robert Bibb, CEO of Blackwood Productions.
Bibb draws up a scenario. "Let's say you own a dry cleaning store. If someone used Google to search for dry cleaners in your area and your website doesn't show up in the top five results, then you definitely need our help," he explains.
Blackwood starts the local optimization process by claiming and optimizing the client's Google + Local Page, submitting the website to local directories, and ensuring that site is properly optimized with authoritative content and meta data. Aside from all this, Blackwood also creates a mobile website and app specifically for the client—something that is not included in similar packages offered by other SEO firms.
"Listing yourself on local directories—including Google Plus or Yelp—is simply not enough. You also need a mobile website because over 40 percent of site visits are now made by mobile device users," explains Bibb. "Without a mobile website, you are not only losing serious business—you are also losing site engagement and ultimately, customer loyalty."
In addition to a custom mobile website, Blackwood also creates a custom mobile app for its local SEO clients. The app—which enables the client to push content and rewards programs to their clients—can be easily downloaded from the Apple or Google Play store.
"Through these custom apps, we give our clients the ability to instantly notify their customers of discounts, events, price changes, coupons, and other incentive programs. We give them a direct connection to their customers—a connection that is more immediate and effective than an e-mail," Bibb explains.
Blackwood is the first company to include custom mobile app creation in its basic package.
"It's very expensive to develop custom apps. In fact, until recently, only larger corporations were able to use applications like this for mobile marketing. Nonetheless, we have included it in our basic package. Cost is the least of our concerns. We just want to give our clients the best value," Bibb adds.
Blackwood's Local Search Engine Optimization package costs $6.63 a day or $199 a month, with a one-time fee of $995. Industry analysts describe it as one of the most cost-effective internet marketing offers today, costing less than a fifth of what companies typically spend on marketing. The 'quit anytime' policy also makes it ideal for those who want to try local optimization but are put off by binding agreements.
"This is a month-to-month arrangement, so clients are not tied to a contract," explains Bibb. "They can technically quit whenever they want. That said, no one has ever left the program. With such fantastic results, why would they?"
At the start of the process, Blackwood's SEO experts show the client where they stand relative to their competitors, then determine the highest-converting keywords, regardless of product or market.
"Most business owners have no clue that they are already being annihilated by the competition online. They also have no idea what keywords to optimize for," explains Bibb. "So we show them just how much traffic their competitors are getting—traffic that should be theirs. And then we explain exactly how we can help them compete and win."
Blackwood then provides the client with search optimization services, including original content and relevant linking, which builds site authority. The client also enjoys Google Places submission and optimization, directory listing submissions to over 80 top directories (including Yelp, YouTube, and more), and establishment of Google authorship.
Blackwood Productions has long been a leader in the SEO industry, with over 38,000 websites under management. It has been lauded for delivering fast and long-lasting Google rank improvements, with clients typically ranking better within a month. The company promises to deliver the same speed and efficiency in its local SEO offerings.
"With Local SEO, there's less competition, so the results are even faster," Bibb claims. "The Google ranks of our clients improve significantly in about two weeks."
Business owners interested in getting a demo of Blackwood Productions' Local Search Engine Optimization package can call 1.877.823.1543, fax 1.877.561.3753, or email support(at)blackwoodproductions(dot)com. Resellers are also welcome.