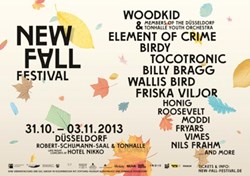 The line-up includes international stars of avant-garde sound, as well as new and local talent.
Düsseldorf, Germany (PRWEB) September 03, 2013
Düsseldorf's "New Fall Festival," October 31 – November 3, 2013, ushers in a new generation of avant-garde music events, because everything about it breaks down barriers. The musicians and their styles don't fit the molds of music categories, and performance locations are unexpected.
The program includes classical, indie and pop ingredients, songwriting and electronica, and is a smorgasbord of new flavors. The venues are some of the most exclusive in Düsseldorf and usually house performances of classical formats, like the planetarium-turned-concert hall "Tonhalle," home to Düsseldorf's symphonic orchestra, or the Robert-Schumann-Hall, an established classical music venue. "New Fall Festival" sets the stage with a fresh standard in atmosphere and quality, and its greatest inspiration is a desire for inventive sound and vision created by novel artists at unique venues.
The line-up includes international stars of avant-garde sound, as well as new and local talent. On the lineup: French super star Woodkid, whose performance with the Youth Symphony Orchestra at the Tonhalle is one of the festival's highlights; BIRDY, who catapulted to stardom when she won British TV talent show "Open Mic UK" in front of millions of viewers and has since established herself as pop music elite; and post-punk-icon Billy Bragg, who has been a fixture in the avant-garde music scene for three decades, and will introduce his new album "Tooth & Nail."
The show begins with artists from the region, including Roosevelt from Cologne and their blend of Ibiza-influenced Balearic haze, electronica and guitar pop; and Vimes, another Cologne-based group, with a dance-friendly and visual live set that is both electronic and organic in sound.
Other international artists include Fryars, the project of London-based 23-year old Benjamin Garrett. His acclaimed debut album "Dark Young Hearts" from 2009 won fans across the musical spectrum from Kanye West to Depeche Mode; Swedish indie pop-rock band Friska Viljor; Norway's Moddi, who plays a Russian mandolin, blues guitar, and his mother's accordion; and energetic Irish singer-songwriter Wallis Bird.
Advance ticket sales are going strong and the concert by Element of Crime on November 1 at the Tonhalle is already sold out.
For more information on New Fall Festival and to purchase tickets, visit http://new-fall-festival.com.
The city's tourism office is offering hotel and city specials for many of the city's great events throughout 2013, including New Fall Festival. The travel package called "Düsseldorf à la Card" can be booked right from the tourism office's website at http://www.duesseldorf-tourismus.de/en/hotel-packages/duesseldorf-a-la-card/. Prices start at €49 per night per person based on double-occupancy for a 2-3 star hotel in the city center and at €95 per person for a 4-5 star hotel. All packages include breakfast, a Düsseldorf Welcome Card (free public transportation within city limits, plus more than 40 free or reduced admissions to city attractions), and a city information package.
Düsseldorf Marketing & Tourism GmbH is the visitors and convention bureau of the city of Düsseldorf. Its responsibilities include tourism and city marketing, as well as conference and meeting marketing, hotel reservation services, fairs and convention services, city event ticket sales and advance ticket reservations. For more information, visit http://www.visitduesseldorf.de.
Düsseldorf Airport, Germany's Next Generation HubTM, offers several non-stop flights from US & Canadian cities (Atlanta, Chicago, Ft. Myers, Los Angeles, Miami, New York, Newark, Toronto), as well as convenient connections to many European cities. For more information about the airport, visit http://www.fly2dus.com.