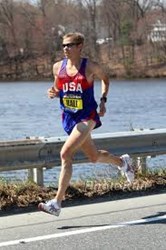 This is a GPS watch for runners that is elite athlete tested and proven.
Bozeman, MT (PRWEB) September 02, 2013
Garmin Forerunner 210, Garmin's running GPS watch, is on sale with a $25 mail-in rebate for September and October 2013 at the Heart Rate Watch Company.
"This allows interested runners to save 12.5 percent on the Garmin 210 without heart rate strap and 10 percent on the Forerunner 210 with heart rate," says Rusty Squire, President of the Heart Rate Watch Company.
Used by World-Class Runners
U.S. marathoner Ryan Hall used the Garmin Forerunner 210 when he ran a 2:04 in the Boston marathon and used miles as laps to record his precise mile times according to Squire. "This is a GPS watch for runners that is elite athlete tested and proven," says Squire.
Precise Mile Times As Laps
"You can measure your precise mile times as laps to help work on your pacing strategy which is critical for distance runners," says Squire. He adds, "Keeping the proper berth from your anaerobic threshold is the name of the game."
Different Models
Forerunner 210 comes in black without and with heart rate, a white and green multicolor and a black version that includes heart rate and a foot pod for cadence. "It's the lightest GPS watch for running at 1.8 ounces and that is critical when you consider you are moving active weight with arm swing when running," says Squire.
Great Training Software
"Garmin Connect software is complimentary and offers complete mapping detail and charts your metrics over the entire distance which you can analyze in a Player function," says Squire. He adds, "You can freeze your precise data for heart rate and pace with pinpoint accuracy, like at the top of a hill."
"The altitude correction feature nails the altitude changes to within a few feet accurate using Garmin's extensive mapping data base," says Squire.
Complimentary Books
Heart Rate Watch Company also offers two complimentary e-books entitled "How To Successfully Use A Heart Rate Monitor" and "How To Elevate Fitness With Strength and Interval Training."
Talk to an Expert
"We always recommend calling us at 866-586-7129 to talk with us so we can answer all your questions," says Squire. He adds, "We test and use these products ourselves so we know them cold unlike most sales clerks at a big box store."