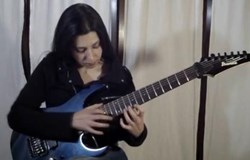 Los Angeles, CA (PRWEB) September 01, 2013
Guitar Control, the leader in web-streamed instruction and comprehensive DVD-based courses, announces the release of "Lead Guitar Lesson -- Tapping Arpeggios, Greg Howe Style -- Advanced Guitar Technique" the latest in their series of instructional videos that are available on YouTube.
Simply speaking, arpeggios are essentially the notes of a chord played one at a time, in sequence -- as when, for example, a the C, E, and G notes C major chord are played individually. Arpeggios can repeat the note sequence, reverse it, or both, and in practice can encompass single note runs that travel beyond the confines of individual chords, as in this lesson from Alejandra Mesliuk.
In "Tapping Arpeggios, Greg Howe Style," Alejandra demonstrates an arpeggiated lead guitar sequence that employs a combination of techniques: hammering-on (the fretting finger coming down hard on the string); pulling-off (the fretting finger quickly releasing the string); and tapping, essentially "hammering" with the picking hand. This sequence is reminiscent of the playing style of renowned American guitarist Greg Howe, who incorporates picking hand tapping into his playing, often alternating picking and tapping within the same melodic phrasing.
In the video, Alejandra first plays the sequence at full speed and then runs through it slowly so the student can more easily see the sequence of fretting-hand and tapping-hand notes. The focus is entirely on technique; there is no discussion of music theory. The student is encouraged to follow along, using the available tabs (tablature notation) as a guide. So even though the technique is advanced, the lesson is accessible to novice players as well.
Alejandra Mesliuk is a highly accomplished and classically trained guitarist from Argentina who is equally comfortable playing Jazz, Rock, and Classical pieces. A sought after instructor in her homeland, Alejandra is working on her first book: Technique and Expression - method of tapping and slap guitar for 6 & 7 strings, and is also preparing her first solo album Los locos de Dios.
Greg Howe is an acclaimed session musician and recording artist with a dozen albums to his credit, including the 2013 release Maragold.
Guitar Control is a consortium of professional guitarists dedicated to providing the highest quality musical instruction. Producing both web-streamed lessons and comprehensive multi-DVD courses, Guitar Control offers instruction for every style of playing and for all musical genres. Guitar Control's YouTube channel offers 358 (and counting) free video lessons.