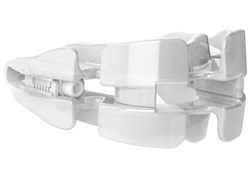 New York, NY (PRWEB) September 24, 2013
The kids are going back to school and bringing every germ they can get their hands on back home! Parents everywhere look forward to the peace and quiet of the start of the school year, but dread those persistent fall colds and flu that go hand-in-hand (literally!).
If family members catch every bug kids bring home, they will find nighttime relief and peaceful sleep with the VitalSleep mouth guard for snoring
Colds, flu, and fall allergies can leave a person miserable through the night: congested, inflamed, and sleepless. Designed exclusively for adults, VitalSleep is the perfect solution for snorers. Fall ailments can cause the soft tissues of the nose and throat to become inflamed, making breathing difficult and causing snoring. VitalSleep is designed to open the upper airway, allowing a person to breathe freely and enjoy the restful, healing night's sleep you need.
VitalSleep is effective for chronic snorers, but even if a person does not experience frequent snorers, VitalSleep is an essential snoring product to keep on hand for those times when you are vulnerable to allergies and ailments that make breathing difficult at night.
VitalSleep is a comfortable, customizable, and micro-adjustable mouthpiece that is FDA-cleared and BPA-free. It is guaranteed to help stop snoring, and comes with a one year warranty including free replacements throughout the year, for any reason.
Enjoy the season to the fullest, and sleep peacefully through those lovely, crisp fall nights. Allergies and colds do not have to prevent a person from enjoying the best sleeping weather of the year!
Learn more at http://www.vitalsleep.com.