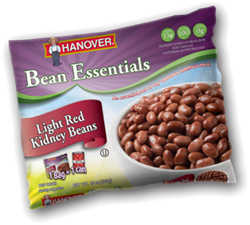 Hanover, PA (PRWEB) September 04, 2013
Hanover Foods Corporation has announced the release of Bean Essentials, a new and innovative line of frozen beans for quick, easy, delicious, and nutritious meals and side dishes. The line includes eight varieties of recipe-ready ingredient beans, and four varieties of sauced beans. Not only are all of the beans in the line delicious, but they contain zero trans fat, are a good source of iron and an excellent source of fiber and calcium. The freezing process of all the Bean Essentials items create a taste and nutrition profile that is outstanding and perfect for not only those who are focused on nutrition and clean eating but anyone looking for an item with superior taste.
Bean Essentials recipe-ready varieties include; black beans, great northern beans, light red kidney beans, dark red kidney beans, garbanzo beans, pink beans, pinto beans, and red beans; all are individually quick frozen to provide maximum nutrients and taste without any added sodium. The Bean Essentials sauced varieties include; Tuscan White Beans, Southwestern Pinto Beans, Caribbean Black Beans, and Cajun Pink Beans. All Bean Essentials sauce items are packaged in a microwavable package for quick and easy preparation.
Consumers and retailers can visit http://www.beanessentials.com to learn more about the items, as well as find nutrition information, recipes and coupons. Bean Essentials are available nationwide at many grocery retailers including Walmart, ShopRite, Giant Food Stores and Publix.
Hanover Foods Corporation is locally owned and operated in Hanover, Pennsylvania and is the largest independently owned food processor in the eastern United States.  Since 1924, Hanover Foods Corporation has been an active leader in the growing, packaging, and marketing of an amazing variety of frozen and canned products including Hanover Gold Line Vegetables, Hanover Silver Line Vegetables, Hanover Canned Beans, Hanover Canned Vegetables and Hanover Frozen Soft Pretzels.