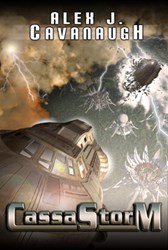 'CassaStorM is a touching and mesmerizing space opera full of action and emotion with strong characters and a cosmic mystery.' - Edi's Book Lighthouse
Pikeville, NC (PRWEB) September 17, 2013
The final installment in author Alex J. Cavanaugh's best-selling series is set to take the book world by storm. The first two books, CassaStar and CassaFire, were Amazon Science Fiction Best Sellers in both the US and UK, and CassaStorm is poised to repeat that achievement. The Cassa series boasts ties to classic space opera and has been compared to Ender's Game and Heinlein's early work.
The series' success is due to its appeal beyond the science fiction fan base due to the author's reliance on a strong, character-drive story. The series continues with protagonist Byron and introduces his ten-year-old son, drawing in those who enjoy MG and YA fiction. Built around a space opera story arc, the latest installment carries themes of family, sacrifice, and the battle against racial discrimination.
Commanding the Cassan base on Tgren, Byron thought he'd put the days of battle behind him. As a galaxy-wide war encroaches upon the desert planet, Byron's ideal life is threatened and he's caught between the Tgrens and the Cassans. After enemy ships attack the desert planet, Byron discovers another battle within his own family. The declaration of war between all ten races triggers nightmares in his son, threatening to destroy the boy's mind. Meanwhile the ancient alien ship is transmitting a code that might signal the end of all life in the galaxy. And the mysterious probe that almost destroyed Tgren twenty years ago could return. As his world begins to crumble, Byron suspects a connection. The storm is about to break, and Byron is caught in the middle.
"CassaStorM is a touching and mesmerizing space opera full of action and emotion with strong characters and a cosmic mystery." - Edi's Book Lighthouse
"The final installment of this series will break your heart and put it back together." - Charity Bradford, science fantasy author of The Magic Wakes
"CassaStorm pushes the limits…" - Tyson Mauermann, Speculative Reviews
Cavanaugh is well recognized in the online community with a large following and active participation. Two years ago, he established the Insecure Writer's Support Group, dedicated to supporting writers and authors alike. He is also a continuing co-host in the A to Z Challenge, the largest blogging event of its kind. An extensive blog tour is planned for his third book, featuring interviews, articles, reviews, and numerous giveaways.
Alex J. Cavanaugh has a Bachelor of Fine Arts degree and works in web design and graphics. He is experienced in technical editing and worked with an adult literacy program for several years. Online he is the Ninja Captain and heads up the Insecure Writer's Support Group. The author lives in the Carolinas with his wife. Visit Cavanaugh at http://www.alexjcavanaugh.blogspot.com.
CassaStorm is available September 17, 2013 online, retail, and in all eBook formats. Published by Dancing Lemur Press, L.L.C. Science fiction space opera/adventure. Trade paperback $16.95 ISBN 978-1-9398440-0-2, eBook $4.99 ISBN 978-1-9398440-1-9 http://www.DancingLemurPress.com