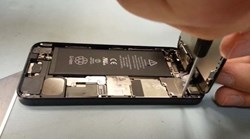 We source replacement screens from the same Hong Kong supplier as Apple
London, Greater London (PRWEB UK) 2 September 2013
With every man and his dog jumping on the iPhone repair band wagon it can be difficult to know who to trust. At iPhone Repair technician Fellipe says, "We get to see evidence of bad repairs all the time. You can tell when fake screens are used because they get scratched easily and are quick to crack."
Low quality iPhone parts can range from being off colour, to having poor performance qualities. Fake parts on eBay and Amazon are cheaper for a reason; they have an extremely high defect rate.
As a result of the onslaught of fake parts iPhone Repairs announces the launch of their parts promise guarantee. Ryan Newman, founder of the company, says, "I am very open with customers that ask about where we acquire our parts and even give them links to our supplier sites so that they can have peace of mind that we are using original parts for their repair. We source replacement screens from the same Hong Kong supplier as Apple."
Many companies do not offer any warranty at all. In most cases this is because the parts used are not the genuine article. iPhone Repair provide a 90 day warranty on all parts and labour. They are able to answer specifics on what exactly is covered under the warranty so that there are no surprises. For example, office manager Hellen Grasso, says, "We typically warranty the repair we have performed and that particular part but if a customer comes in with another issue, we'll always check and make sure that the issue didn't arise from an error on our part. This requires a great level of trust between us and our customer."
To find out more about iPhone Repair parts promise please visit http://www.iphonerepair.org/ or call 0800 033 7508. iPhone Repair will match any iPhone repair price in the City area of London. The competing retailer must not be a home business, and must have a retail premises in the City of London. iPad Repair is part of the Hello Techy family of tech repair businesses.