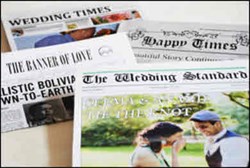 We had to do a lot of fast adjusting to accommodate for increasing demands.
Tucson, Arizona (PRWEB) September 02, 2013
While church, reunion and small business newspapers continue to lead expansion for the short-run newspaper specialist website, Makemynewspaper.com, the 'Wedding Newspaper' branch is where the company reported experiencing their greatest growth.
"The desire for wedding newspapers was somewhat of a surprise for us," reports CEO Patrick Carson. "We never really made any push to this market, it just kind of showed up and we had to do a lot of fast adjusting to accommodate for increasing demands."
Some of the changes the company made were to offer a diverse variety of wedding newspaper templates for use with their free online newspaper designer. "We literally had no wedding templates, so we had to create them, which we've done with great reaction from our customers. Announcements, invitations, receptions, anniversaries, save the date newspapers are just a few of the kinds of newspapers our clients order from us.
Another reason for the growth in this area is due to the launch of their "Impact Newspaper" a few months ago, Mr. Carson says. "This product made the 'personal newspaper' affordable in a way never available. Before 'Impact Newspapers,' it would cost a minimum of four hundred to a thousand dollars for fifty color wedding newspapers from any other newspaper plant. We offer at $109.00. It's a bit game changing in this regard, as we're the only company that deals in this kind of low-cost newsprint pricing, especially so considering we offer it in either gloss-like black and white or color printing."
Mr. Carson goes on to say that their new 'eNewspaper,' an online only newspaper product that can be created in their Cloud Newspaper Designer and shared via social media and other internet platforms, is also generating impressive interest in the bridal market.
Makemynewspaper.com recently launched an affiliate/partnership program for other wedding websites to promote 'Wedding Newspapers.' For more information, visit Makemynewspaper.com.