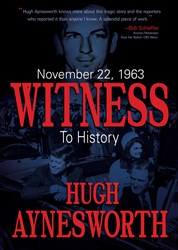 "Aynesworth has been one of the few beacons in the darkness." - Peter Landesman, Director, "Parkland"
Dallas, TX (PRWEB) September 03, 2013
Hugh Aynesworth, the most revered authority on the Kennedy assassination, as well as a renowned journalist, historian, and four-time Pulitzer Prize finalist, provides readers with his unique insights in his new book "November 22, 1963: Witness to History" (Brown Books Publishing Group).
Fifty years later, Aynesworth's intriguing behind-the-scenes narrative recreates the harrowing hours following the president's death, builds portraits of the assassin's mother and wife, and engages readers as eyewitnesses to the frenetic aftermath.
Aynesworth is recognized as the only journalist to have witnessed the assassination of the president, the arrest of the assassin, and the shooting of Lee Harvey Oswald by Jack Ruby. To this day, he debunks all conspiracy theories.
"The rifle shots had barely stopped echoing over Dealey Plaza that Friday afternoon a half century ago before untruths, both innocent and deliberate, began to distort the record and creep uncorrected into the world's consciousness."
As a consultant on the new movie "Parkland," directed by Peter Landesman and produced by Tom Hanks, already generating Oscar buzz, Aynesworth was lauded by Landesman as "the most reliable and detailed source and eyewitness I've come across."
Bob Schieffer, Anchor/Moderator of "Face the Nation," CBS News, says, "Hugh Aynesworth knows more about this tragic story and the reporters who reported it than anyone I know. A splendid piece of work."
Bob Mong, editor of The Dallas Morning News, adds, "The fact that Hugh Aynesworth was an eyewitness to history is just the beginning of the story. With a historian's devotion to subject matter expertise and a reporter's sense of precision, Aynesworth established himself as the most reliable chronicler of the events surrounding the assassination of John F. Kennedy."
With the benefit of time and with an investigative reporter's passion for facts, author Hugh Aynesworth dispels false accounts and reveals the truth about those who sought to profit from their fortuitous (or manufactured) connection to the assassination.
"No one –– repeat, no one –– in America knows more about the Kennedy assassination," says Michael Ruby, journalist, "U.S. News & World Report," "Newsweek," and "Business Week."
Now fifty years later, Aynesworth recounts events that have passed into memory and controversy –– and sets the record straight.
To learn more, visit http://www.HughAynesworth.com.
Books are available online and in bookstores. To order autographed copies, visit http://www.HughAynesworth.com.
About Brown Books Publishing Group
Brown Books Publishing Group is a Texas-based independent publisher. To learn more about the publisher, please visit http://www.BrownBooks.com.
# # #