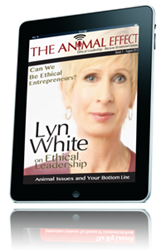 To ignore the implications of this, believing that your organisation has little to worry about, is to ignore a massive threat to the viability of your business.
Sydney, NSW (PRWEB) September 01, 2013
Staff, customers and suppliers are becoming increasingly informed about the industrialized treatment of animals in products for human consumption and are boycotting companies that support cruel practices. This results in a negative impact on a business's bottom line and could potentially lead to bankruptcy, according to organizational psychologist Clare Mann, publisher of The Animal Effect magazine.
"To ignore the implications of this, believing that your organization has little to worry about, is to ignore a massive threat to the viability of your business," she warns.
Mann, who has worked with many large-scale corporations in Australia and internationally, says that companies must integrate an ethical leadership strategy into their operations to avoid becoming the target of negative publicity campaigns.
"Being proactive against unethical practices can give a company an edge over competitors who do support animal cruelty, whether directly or indirectly," says Mann, who launched The Animal Effect magazine through her communications company Communicate31, to showcase business and thought leaders who provide the tools, strategies and techniques to embrace ethical leadership in today's organizations.
The digital magazine, which launched in July, is aimed at senior executives in large corporations as well as small-to-medium businesses. Each issue features interviews, profiles, columns and articles exploring practical solutions to ethical issues in the workplace, with a focus on animal welfare. It follows the successful inaugural Animal Matters event in Sydney in March, organized by Communicate31, which brought together more than 150 CEOs and executives interested in stepping up as ethical leaders.
The magazine's first issue includes an introduction to ethical consumerism by Sara Kidd, and associate editor Katrina Fox examines the concept of ethical entrepreneurs. Leading animal advocate Lyn White from Animals Australia adds her voice by inviting the corporate world to consider their part in creating an ethical society.
Response to the magazine – which is available on the iPad and iPhone through Apple's Newsstand app as well as online – has been overwhelmingly positive, with over 1,200 downloads of the magazine in the first 48 hours of its release.
"This is very heartening," says Mann. "It shows that business leaders are beginning to become aware of the need to operate more ethically. Discussing animal issues in the boardroom isn't just an ethical issue, it's a business imperative. As an organizational psychologist, my advice to businesses is to place these issues firmly on the agenda. The Animal Effect magazine will provide business leaders with the strategies and techniques to make changes to their business that will positively impact their bottom line as well as their conscience."
For more information on The Animal Effect magazine, visit http://www.animaleffect.com/magazine.