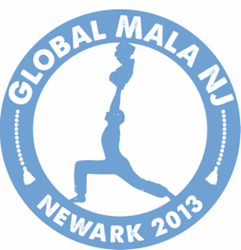 Join us for our seventh annual Global Mala event, a day of celebrating and honoring peace, an experience that is fun for all who participate!
Newark, NJ (PRWEB) September 18, 2013
Sunday, September 22, 2013 at the Newark School Stadium 450 Bloomfield Avenue, Newark, NJ from 9 a.m. - 3:30 p.m.
Everyone is invited to the largest Global Mala gathering in the world. If you can't make it on September 22nd, StudioLiveTV will be filming portions of this event for on-demand viewing. A portion of the proceeds will be going to Global Mala charities. In order to access coverage from this year's Global Mala NJ event, you must create an account with StudioLiveTV.
World-renowned yoga teacher Shiva Rea conceived Global Mala as a way to gather communities all with the intention of creating peace and unity. NJ Co-Peace Igniters for the event are Seth & Stacy Newfeld and Debby Kaminsky.
Kaminsky believes "the power of this event has taken on a life of its own. People now look forward to this annual gathering as a way to do their part in helping to promote peace. People are also excited to support the city of Newark where we have held this event for the last six years." Mayor Cory Booker has been a supporter and attendee of this event since its inception and is the expected keynote.
Guest presenters include Beryl Bender Birch, Tao Porchon-Lynch, David Romanelli, Sue Elkind, Fred DeVito and Elisabeth Halfpapp, Suzanne Bryant Jillian Pransky, Sensei John Mirrione plus a line-up of some amazing local NJ teachers. Chair yoga and special needs yoga will be offered. Live music will be provided by Dalien/13 Hands.
Children will also enjoy special events including yoga, karate, art projects, drumming circle and discussions with guest speakers such as Earl Best better known as The Street Doctor and Maya Stein, the "Type Rider."
Proceeds will be going to Global Mala charities. 70 percent is designated to Hurricane Sandy Relief Fund of NJ. 30 percent to be divided among Ashrams for Autism, Newark Yoga Movement and The Community Food Bank of NJ, who will be on hand to also collect important and much needed non -perishable food items.
The first 250 registrants at suggested donation of $27 receive a free gift bag worth $150.
The first 100 registrants to register at $75 receive a complimentary yoga mat from our Sponsor Lululemon. Purchase the event tickets here.
For more information on the event or to learn how to register to attend, please go to http://www.globalmalanj.org.
StudioLiveTV offers a variety of classes, workshops and seminars from all over the world. From on-demand lectures to live-streaming classes, StudioLiveTV partners with the best fitness, yoga and wellness professionals together online. Studios and instructors now have an additional way to grow their membership community.
(Rain venue is Science Park High School).
Contact: Sharon Pingitore
Sharon(at)StudioLiveTV(dot)com
800.539.9185