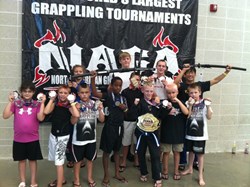 "It's important we're helping them excel in school and in their martial arts training."

- Timothy Spriggs, After School Instructor
Baltimore, MD (PRWEB) September 04, 2013
Crazy 88 Brazilian Jiu Jitsu has announced that they are currently picking up students from Ducketts Lane Elementary School located in Elkridge, Maryland.
Crazy 88 Brazilian Jiu Jitsu is a professional Mixed Martial Arts academy located in Elkridge, MD. The academy currently offers a variety of classes and programs including Brazilian Jiu Jitsu, Muay Thai Kickboxing, Womens Only classes, as well a Kids Program.
The kids martial arts program offers classes for children ages 3 to 14 years old. Classes are divided into Tiny Ninjas (3-5), Little Ninjas (6-9), Juniors (10-13) and Teens (14-17). The program covers both Brazilian Jiu Jitsu and Muay Thai, with the curriculum being catered to each specific age group.
The after school program focuses not only on martial arts success, but also academic success. This year the program at Crazy 88 is being structured to involve more emphasis on school and academic activities in addition to Brazilian Jiu Jitsu and Muay Thai training.
Kids Program and After School Instructor, Timothy Spriggs said, "We want our students to be stars on and off the mats. It's important that we're helping them excel in school and in their martial arts training."
Spriggs continued on to say, "We made a lot of changes to the program. With the new approach to the program I know the kids will be nothing but successful this year."
Transportation is provided from the child's school to the academy. The program consists of homework and other educational activities as well as life skills lessons. The students participate in a martial arts class to focus on physical health, self-defense and to build confidence.
To learn more about the programs offered at Crazy 88 - Elkridge visit http://www.BaltimoreMixedMartialArts.com or call (443) 283-1450. For more information about Crazy 88 - Owings Mills visit http://www.Baltimore-MMA.com or call (410) 999-1064.
Ducketts Lane Elementary is located at 6501 Ducketts Lane, Elkridge, Maryland 21075.