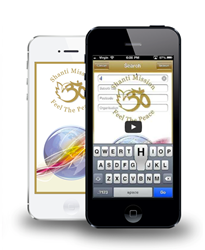 Any well trained metaphysician will tell you that working with a group is quite important. The group energy can attain things together that we cannot do in singularity. Our app will assist greatly in bringing these groups together.
Sydney,NSW (PRWEB) September 02, 2013
With a constantly growing member base and with events being run in multiple locations Shanti Mission required a way to keep its members up to date with event information that is relevant to individual members. Members can now select an area of interest and a location they are interested in and receive notifications based on those criteria. This avoids the overwhelm of emails or having to regularly visit relevant websites or social media sites for updates, a time consuming and error-prone process.
With their new iPhone app they are providing a tool to members that enables them to connect more easily in a timely way and be made aware of events they would otherwise have missed had they not actively checked traditional sources where courses are normally advertised. The app has the additional benefit that the Shanti Mission can be confident that information is getting to members so that they have the greatest opportunity to attend events
About Shanti Mission Harmony Centres:
Shanti means 'peace' in the ancient language of Sanskrit and so Shanti Mission exists to help people create more peace in their lives and peace in the world. Shanti Mission provides training, mentoring and support, mostly by donation, to help people develop new tools and approaches to managing anything life throws their way. Shanti Mission was founded by long-time spiritual teacher and ex-barrister, Shakti Durga. It has been operating since 2007. One of Shanti Missions most popular courses is The Path of Ease and Grace.
For more details on the App please visit http://shantimission.softwaresynergy.com.au.
To download from Apple itunes visit: https://itunes.apple.com/au/app/shanti-mission/id666069170?mt=8.
To learn more about Shanti Mission please visit http://shantimission.org.au.