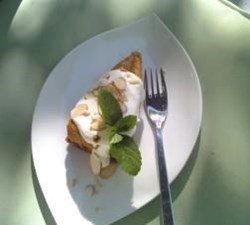 Vegetables are a must on a diet. I suggest carrot cake, zucchini bread, and pumpkin pie. - Jim Davis, 'Garfield'
Whistler,BC (PRWEB) September 02, 2013
This Thanksgiving October 11th – 14th, Vancouver's Tournesol Retreats brings a taste adventure to Whistler with a "Farm to Table" Foodie vacation. They have chosen the spectacular Nita Lake Lodge to celebrate the Fall Harvest this thanksgiving for its rustic yet luxurious setting, set amidst the luscious bounty that surrounds the region.
The tour includes three full days of indulging in delicious, locally sourced foods and menus prepared by local chefs from Whistler and Vancouver. Tournesol Culinary vacations are for food lovers who love to create a vacation that offers memorable taste experiences.
The Thanksgiving package offers three nights accommodation, all meals, a selection of wine tastings, private brewery and distillery tours, food- pairing demonstrations, a farmers market, some spa activities, parties, entertainment and of course a very special Canadian Thanksgiving dinner prepared by Nita Lake Lodge's own chef on Sunday, October 13th.
The event was designed by Tournesol Retreats founder, Marcy Schacter, an event producer and script-writer who also loves to cook and explore new taste experiences while on vacation. An avid Whistler skiier who has been coming here since the early 70's and can't wait to share some of the Whistler gems that most tourists don't even realize are here. One exceptional discovery is the Edgewater lodge, a well-loved lakeside resort and fine dining experience that has had loyal regulars bragging about it for almost 50 years.
Marcy paired up with her sister a chef and culinary consultant/tour guide to create an enticing menu of activities and a program that explores both Whistler and Pemberton's farm fresh foods, local brews and spirits. Offering unique brews like the "Pineapple Express" ale from Whistler Brewery in "Function junction" to outstanding organic vodka, apple brandy and gin, all made from Pemberton potato's fashioned by the Schramms at Pemberton Distillery.
The goal of these two "die hard" Whistler fans is to take guests on a custom tour of some of the hidden gems, calling this tour an "Off the Valley Trail" adventure. With all the great eating and drinking spots in Whistler village, most tourists miss out on the "Real Whistler".
If all goes well at this Fall tour there are going to be three or four of these culinary vacations set up at different locales themed around farm fresh ingredients available in Spring, Summer, Fall and Winter allowing guests to enjoy a host of great activities offered in each season. Tournesol Retreats is very excited to showcase the valleys spirit of great fun, food and adventure.
There are only a few spots left in the October event, and until September 15th there is a 15% discount an this all-inclusive package, which means it's actually possible to have guests literally leave their wallet at home, and for most visitors to Whistler, that is a total fantasy.
For more details go to: http://www. tournesolretreats.com.