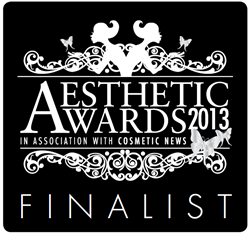 Viora is proud and thrilled to be a finalist in Cosmetic News UK's Aesthetic Awards.
Jersey City, NJ (PRWEB) September 10, 2013
Viora, a leading medical aesthetics manufacturer, is proud to receive the recognition of Finalist for Treatment of the Year, Best Product Innovation and Equipment Supplier of the Year for the Aesthetic Awards 2013. The event, associated with Cosmetic News, the leading aesthetic Business-to Business publication in the UK, was especially competitive this year so it is an honor for Viora's products and technology to be so acknowledged.
V-touch, the next generation of Fractional RF devices for resurfacing and rejuvenation, has been nominated for Best Product Innovation. Introduced this year, the revolutionary, proprietary SVC™ technology (Switching, Vacuum & Cooling) integrated into V-touch, has elevated the physician experience by providing more control, while allowing patients to benefit from a less painful, safer treatment experience with significantly reduced downtime.
AZTEC Services, Viora's exclusive distributor in the UK, has been nominated Equipment Supplier of the Year. This acknowledgment is affirmation of their dedication and contributions to the aesthetic industry.
"Viora is proud and thrilled to be a finalist in Cosmetic News UK's Aesthetic Awards. While we receive positive feedback from our customers, these nominations are additional confirmation that our products and technology are effective, and provide the best possible results," said Meital Ben-Tovim, General Manager, Viora. "Our entire team deserves congratulations for helping Viora achieve this recognition. Additionally, Viora would like to congratulate Tony Zacharek and AZTEC Services and thank him for his commitment to Viora and our products."
About Viora
Viora is a market-leading manufacturer and technology provider of microdermabrasion, electro-mesotherapy, light-based and advanced radiofrequency systems for the global aesthetic and medical markets. All of the products are developed by a team of veteran engineers in the industry as well as medical experts including physicians, surgeons, dermatologists, medical researchers and independent clinical directors. For more information, visit http://www.vioramed.com.