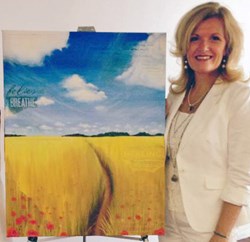 Our patients can relate with these paintings, which helps relax them and draw them out. It's all about reducing the patients' level of anxiety and making it a more pleasurable experience for them.
- Dr. Paul Creighton
Buffalo, NY (PRWEB) September 03, 2013
A trip to the doctor often means waiting anxiously while staring at a blank wall littered with information on various diseases. Inspirational Artist Colleen Darby is changing that with her new Kickstarter Campaign - A View for a Room: Transforming Healthcare Spaces. An experience she had while working as an Artist in Residence on the oncology floor at a Children's Hospital was the inspiration behind the campaign:
"It was a sunny Spring morning when I walked into a patient's room and said, 'What a beautiful day it is outside!' The patient looked up at me from her bed and said, 'It always looks the same from here.'"
Colleen is embarking on a mission to provide a view for every room. This Fall, she will create 20 inspirational LandEscape paintings, which are paintings of a variety of inviting landscapes with inspirational words, phrases, and ideas collaged into the painting. The campaign reached its minimum funding in just two weeks but Colleen is hoping to change even more medical spaces and to grow from two medical offices to twenty.
Exam rooms, waiting rooms, oncology and dialysis units can be stressful environments. Colleen knows that giving patients a beautiful view and positive messages can help to reduce patients' fears and anxieties and to give them a calming escape from the problems or procedures they face.
Colleen is taking a month off from her day job to focus her time and energy on the project. The campaign runs for the next 31 days on kickstarter.com.
Kickstarter.com, is an online crowdfunding organization launched in 2009. Since then more than 4.6 million people have pledged over $764 million to fund more than 47,000 creative projects.