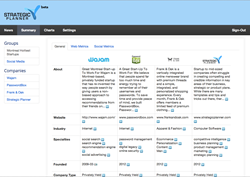 TechCrunch Discrupt is a great event to showcase our competitive and portfolio tracking solution.
Montreal, Canada (PRWEB) September 05, 2013
Strategic Planner, Inc., a brand new company focused on building business tools, announced today that they will be exhibiting at the TechCrunch Distrupt 2013 event on Tuesday September 10th. Designed for business owners, product and marketing managers, investors and business analysts, Strategic Planner is the only solution that allows companies and investors to keep an active eye on all their competitors or portfolio, the news of the industry and to stay on top of what's happening.
"I have been involved with too many companies that struggle when it comes to keeping track and having a global view of their competitive landscape or investors wanting to track the metrics of the companies in their portfolio," said Michel Besner, President & CEO of Strategic Planner. "So we decided to create a simple tool that will enable every company to get a better handle over all the news and key company data and metrics out there."
The competitive tracker from Strategic Planner is still in beta and users are welcomed to sign-in and provide feedback – in order to make this the best tool available for competitive intelligence.
Key Features

News Feed - aggregation of popular news sites (including Bing, TechCrunch & VentureBeat) to give customers a feed specifically designed for portfolio watching.
Company Data - aggregation of company data from multiple sources: LinkedIn, CrunchBase and AngelList. Information displayed includes: company description, location, number of employees, key investors, recent acquisitions, etc.
Web Metrics – capturing Web Traffic, PPC and SEO metrics from Alexa, Compete, iSpionage and MOZ.
Social Media Metrics – fetching for all the relevant metrics (# followers, # postings, etc.) from the leading social media site: LinkedIn, Twitter, Facebook, YouTube and Klout.
Strategic Planner will be exhibiting in the Enterprise Section of the exhibit on Tuesday September 10th 2013. In order to sign-up for the free beta program, please go to http://www.strategicplanner.com.
About TechCrunch Disrupt
TechCrunch Disrupt SF 2013 is TechCrunch's seventh annual conference in San Francisco. The format combines top thought-leader discussions with new product and company launches. Morning executive discussions debate technology-driven disruptions in many industries, while the afternoons are reserved for the Startup Battlefield, where 30 new companies will launch for the first time on stage, selected to present from more than 1000 applications received from around the world. The winning company will receive a $50,000 grand prize and the Disrupt Cup at the conclusion of the conference. The conference is Sept. 9-11, 2013 at The Concourse at San Francisco Design Center located at 635 8th St. (at Brannan) in San Francisco's downtown SOMA district.
About Strategic Planner
Startup to mid-sized companies often struggle in creating compelling and credible information in key areas of their business, strategic or product plans. While there are many templates and tips and tricks out there, there are no tools to help build the content. Companies therefore try to raise funding, build products and go-to-market with incomplete or inaccurate business and product plans; increasing their risk of failure. Our mission is to provide companies a simple platform of tools that will help them to create better strategic, business and product plans. Strategic Planner is located in Montreal, Canada.
Strategic Planner and strategicplanner.com are trademarks of SP Tools Inc. All other trademarks are the property of their respective owners. All rights reserved.