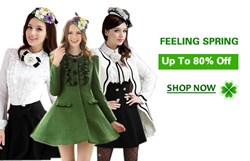 (PRWEB) September 01, 2013
Recently, 4leafcity.com, a popular provider of of women's dresses, has launched its new collection of 2013 prom dresses (see: http://www.4leafcity.com/product-prom-dresses-011002003.aspx), and launched a special offer on all its prom dresses, up to 50% off.
The website of 4leafcity.com features a wide range of women's dresses to fit any type of need. These dresses are specially designed by the top designers in the industry, and every model has only a few dresses in stock, so that ladies can have a unique look at a party.
The CEO of the company says, "The promotion is launched to show appreciation to all clients worldwide. There will be a wonderful style in our collection of 2013 prom dresses for any lady despite the personality type, skin tone and hair color. If you have an outgoing personality, we recommend you our new designs of evening dresses as well. Now, just sign up to become a member of 4leafcity.com, register online on its website please."
She adds, "We suggest that you check our website before making a decision to buy a fashionable wedding dress In addition to great discounts, we provide speedy delivery to give the best experience possible to a wide array of people."
About 4leafcity.com
4leafcity.com is one of the leading providers of women's dresses. The company carries a complete line of women's dresses, as well as elegant men's dresses and various accessories for men and women. For a full list of services and to learn more about 4leafcity.com, please visit http://www.4leafcity.com