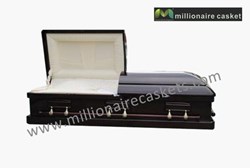 (PRWEB) September 01, 2013
MillionaireCasket.com, a well-known casket manufacturer, has recently unveiled its solid wood casket collection (http://www.millionairecasket.com/category/product/solid-wood/) to its product catalog, including many maple caskets, oak caskets, pecan caskets and more.
The wood caskets are made in different sizes according to the customer's requirements. They can be customized with customers' logos or others. More information about the specification, construction, exterior fittings and interior suites can be available from the sales staff of the company.
According to the CEO of the company, wood caskets have been very popular in the international market these years. They have invested much money and energy on its project of wood caskets. Now, the new designs of maple caskets, oak caskets, pecan caskets and more, are available.
Zoe Wong said, "In the recent years the demand of wood caskets has increased dramatically. We know that quality is the core of any product, and our staff has worked hard to achieve this level of excellence. Moreover, we provide our distributors with global operational, sales, marketing and promotional support. With a commitment to quality and client satisfaction, we have helped many customers tackle many related problems."
About MillionaireCasket.com
MillionaireCasket.com is a leading casket manufacturer from China, and focuses on the business of casket wholesale. The standard quality control policy is strictly applied here, and a third party quality assurance is also available.
More details can be found at http://www.millionairecasket.com/