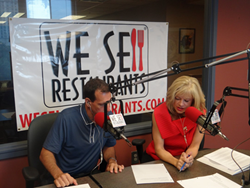 "The Industry is fighting for a limited share of Diners" says Jonathan Maze and operating a franchise is a "Batteries Not Included" opportunity says guest Jamie Davis.
Atlanta, Georgia (PRWEB) September 04, 2013
Restaurant brokers Eric and Robin Gagnon, along with a panel of industry authorities, have been providing their listeners with insightful knowledge designed to help listeners Satisfy an Appetite for Acquisition, Feed the Need for Restaurant Reality and Serve up a Recipe for Business Success.
Each week, the restaurant radio hosts invite authorities on topics trending in the industry ranging from the restaurant economy to financing a restaurant purchase. The most notable shows include "Purchasing a Franchise", "Alcohol License and Restaurants", "Restaurant Market Update & Forecast" and "Restaurant and Bar Beverage Programs".
On "Purchasing a Franchise" featured guests included a multi-unit franchise owner for Stevi B's, franchise restaurant sales executive Jamie Davis for Checkers/ Rally's, and the President of Yeah! Burger, Karen Spencer. Listeners gained first-hand knowledge about franchises and understand that owning and operating a franchise is a "batteries not included opportunity" according to guest Jamie Davis.
The restaurant brokers also explored the pros and cons in obtaining an alcohol licenses on their "Alcohol Licenses and Restaurants" episode. Eric and Robin Gagnon were joined by a seasoned litigator and a member of the alcohol and beverage group for a prestigious law firm. Together, the panel discussed how an operator should obtain a liquor license and the ongoing programs to minimize liabilities. The resident industry expert shared her three- pronged approach in mitigating the risks as an operator. "Those restaurants with higher alcohol ratios will ultimately outperform those without…as long as controls are in place" according to Robin Gagnon.
The "Quarterly Restaurant Market Update & Forecast" episode featured financial specialists Jonathan Maze, Editor of Restaurant Finance Monitor and restfinance.com and Bob Wagner, President of NetFinancials who discussed the state of the restaurant economy. Listeners were able to find out why restaurants were not performing to their usual standards and why casual dining is down, quick service restaurants are flat, and fast casual dining is declining. "The Industry is fighting for a limited share of diners" said, Jonathan Maze.
Beverage trends are sweeping the nation so it's no wonder the restaurant brokers tackled this topic on August 31. The panel featured Senior Food Editor of Nation's Restaurant News and CEO of Bevintel, as they discussed how to achieve a balanced alcohol inventory. The panel also talked about trends that are becoming more prevalent such as craft beers (what some may call the new wine), flavored vodkas and the art of mixology. Listeners were able to get the full on scoop on which trends they should be adhering to. Listeners learned that the most important aspect of a beverage program is the education. "Stop training people in the industry to be order takers and uplift their skill set to become sales individuals" said Robin Gagnon.
The most talked about portion of the show is the "Restaurant Reality" segment where the restaurant brokers give listeners the unbridled truth about topics pertaining to the restaurant industry. "We don't want to sugar coat the information for our listeners because they deserve to know the truth" said, Eric Gagnon. "We've been in this business for over 10 years. Our job is to inform and educate our listeners so they too can achieve longevity in the restaurant business." said, Robin Gagnon
Their national radio show focused on the restaurant industry can be heard every Saturday at noon in Atlanta on AM920. The show is also available via the iTunes store by podcast or on the We Sell Restaurants YouTube channel.
About We Sell Restaurants
We Sell Restaurants is the industry leader in restaurants for sale, franchise restaurant resales and site location for the food service industry. The firm sets the standard for restaurant brokerage nationwide with a focus on knowledge, professionalism and unmatched service. The firm's hundreds of listings can be viewed online at http://www.wesellrestaurants.com along with expert articles and information.
Founders and Restaurant Brokers, Eric and Robin Gagnon are industry experts and authors of Appetite for Acquisition described in the business as the "definitive guide for anyone looking to enter the restaurant industry." They have each sold hundreds of restaurants.