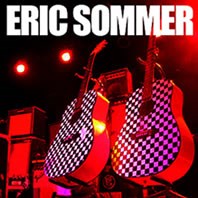 A remarkable player with songs that have meaning and resonance... an inspiration to guitar players and songwriters everywhere. - Ty Bishop, Boston on The Blocks
Boston, MA (PRWEB) September 03, 2013
For Pop Americana artist Eric Sommer, it's been hot and heavy in the Midwest lately: Welcome to the Dog Days of Summer, Mr.Sommer.
The Dog Days, where the last gasp of the cookout, the canoe and 18 holes breathes new life into the launch of the Fall Music Season; and it is here in full force.
This is the time where a slew of new bands appear on the scene, tons of new artists have releases and the music industry tries desperately to make us forget the music debacles of the past few months where, in the most egregious meltdown in recent memory, "looking good" was somehow the equivalent of "being good."
As these new releases come forth, there seems to be little innovation in most offerings, few dramatic improvements in technical skill and song craft, and the airwaves seem to be inundated with acts that still confuse "volume" with "value."
There is one small ray of sunshine in all this, however, and it's the national summer/fall tour dates of Pop Americana artist Eric Sommer.
This journeyman singer, songwriter and guitar player has been working overtime playing road shows and concert halls for year, and his dedication to being the best he can be in all the areas he represents—slide, open-tunings, lap-slap, sonic sounds washes—is a refreshing presentation of solid professionalism, creative inspiration and technical mastery in a sea of mediocrity.
Saginaw, MI and Minneapolis, MN will benefit from Mr. Sommers' skills this fall, White's in Saginaw on Thursday, September 5th and at The Harriet Brewery Taproom in Minneapolis, MN on Saturday September 7th.
Often compared to Steve Earl and Elvis Costello in writing and song style, but firmly based in the British Pop worlds of Joe Jackson, Nick Lowe and Dave Edmunds, Eric mixes superb songcraft with the explosive acoustic stylings of Willie Porter and Steve Howe. This combination is getting increased attention from Rolling Stone, UK Music Press and NY Daily News. In the meantime, Eric is building a solid concert and club track record as a solo artist. Besides being one of the finest American guitar players on the road today, Eric combines great songwriting with musical inventiveness to deliver one of the best live shows on the circuit.
Eric started his musical career in the Boston area and has been a regular player on many national tours and showcases. He worked in Europe for two years on Danish, German and British rock stages, returned to Boston and formed The Atomics, a cult power-pop band in South Boston. The Atomics shared the stage with Mission of Burma, Gang of Four, Dead Kennedy's, Groove Gang and The Neighborhoods among others; and as a solo artist Eric toured with Nick Lowe's Brit Pop acts Bram Tschikovsky and Wreckless Eric.
His influences are as diverse as Townes Van Zandt, Steve Earle, Guy Clark and Ryan Adams. Mr. Sommer's current project with power trio "The Solar Flares" shake up Chet Atkins and Merle Travis influences with those of Shonin Knife and Elvis Costello - a very different mix.
With open tunings, slide guitar, lap-slap tone guitar and a remarkably aggressive fingering style approach, watching Eric Sommer will make you jump out of your seat and holler for joy! There are very few players who have maintained this authentic American style of guitar and Eric Sommer is one of the very best.
Amen.
For Music Samples, please visit Eric Sommer online for additional schedules or contact him at eric(at)ericsommer(dot)com or call 202-255-1995. Additionally, you can find Eric Sommer on Facebook at FB@ericsommermusic and FB@itsericsommer. Rainy Day Karma is also available on iTunes and CDBaby.
Eric Sommer is represented by Clyde is Thinking, and PR programs are managed thru MTG/NY, USA; For more information, promo/appearance requests or to set up an interview, please contact Tom Monihan 202-255-1995.