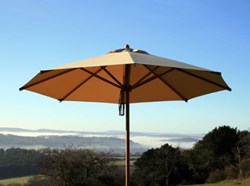 A quality range of parasols for any garden that matches the quality of the teak furniture
Basingstoke, Hampshire (PRWEB UK) 3 September 2013
Chic Teak, a leading supplier of outdoor garden furniture, is introducing a range of robust bamboo parasols, ideal for use with their teak furniture in both commercial and domestic gardens.
Parasols for outdoor garden furniture have always been a difficult product to stock, sell and support for many reasons. For one the quality can vary tremendously and for two, unlike the teak garden furniture, parasols have inherently required care and attention.
Parasols are either handled poorly, left open during inappropriate windy weather or simply left out for months on end without any form of maintenance.
This was a dilemma for Chic teak who always liked to supply a complete garden furniture set which often included a parasol. But unlike the furniture the parasol has been known to let down the set and lead to disappointment if not looked after correctly.
Now Chic Teak have addressed these key issues by introducing a range of tough bamboo parasols that are designed to withstand the worst of UK weather and compliment their range of teak square, round and rectangular dining tables.
Bamboo itself is a notoriously strong and flexible wood, often used for scaffolding in areas such as Indonesia and China. The bamboo itself is ideal as a parasol pole as unlike hardwood or teak it is much more flexible and tends to bend in extreme wind rather than break.
The bamboo parasols are made from a single-piece pole for extra strength and durability. Their double pulley and rope system ensures easy raising and lowering of the parasol, even on the the largest models. The Levante range also incorporates a turned bamboo hub and runner with stainless steel brackets, a bamboo finial, and an elegant practical hour glass shaped pin made from bamboo and stainless steel. The canopies themselves are made from tough wearing polyester or a fade resistant Spuncrylic (depending on colour choice)
Available in round, square and rectangular formats in a variety of sizes from 2.5m to 4m in the round, 2.1 to3.4 in the square and 2x3m and 2.5x3.5m in the rectangular size.
Chic Teak Managing Partner, Robert Bowden, commented: "At last we can proudly supply a quality range of parasols for our teak garden furniture customers that matches the quality of the furniture and can withstand the changeable UK weather and regular use."
For more information on the bamboo parasols or the Chic Teak garden furniture, visit their website at http://www.chic-teak.co.uk/ or telephone 0845 390 5000.