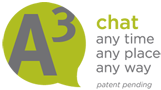 Connecting You To Your Web Visitors Instantly! Scrap The App!
Grand Rapids, MI (PRWEB) September 03, 2013
CONTACT SERVICES RELEASES NEW LIVE CHAT PLATFORM
Contact Services released a new Internet communication tool named "A3 Chat". It's a live-chat platform that differs from other similar platforms by utilizing SMS text notification. The patent on the technology is pending.
"The SMS notification technology paired with a live chat platform allows the user to be out and about without worrying about using up their mobile phone's battery because A3 doesn't use an app. Essentially they can answer the chat wherever they may be very quickly," said Scott Jenkins, Owner of Contact Services. The tool A3 Chat is a bar or image that sits on the User's website and invites visitors to chat with the User by messaging back and forth within the chat box.
Contact Service's mission is "To provide the exemplary tools and services so that our Clients can communicate more effectively with their existing and potential customers!"
"We've been focusing on the convenience of texting and how we can incorporate that with our products to better our clients communication efforts. With A3 we were aiming to not only provide a simple to use chat tool, but also to stress the importance of time through User experience. The people who want to be using this tool have a sense of urgency when it comes to responding, and A3 allows them to do that with the text notification feature," said Scott Jenkins, Owner of Contact Services.
"It's very easy to use, won't eat up your battery by avoiding app use, and helps direct traffic to your website. It's a great customer relationship initiator," said Nicole Ray, Social Media Manager at Contact Services.
Contact Services is offering one month free of A3 Chat with the purchase of one year. There are three levels to choose from. Pricing, testimonials, and unmentioned features of the tool can be found on http://www.mya3chat.com
For more information, visit http://www.mya3chat.com, call (877) 629-7682, or see Contact Services' website at contactservicesteam.com
Contact: Scott Jenkins
Tel: 877-629-7682
Email: Scott(at)contactservicesteam(dot)com