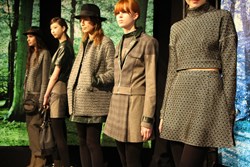 "Promoting the creative talents of our media team and the hard work that goes on behind-the-scenes of the fashion industry is what FashionMingle.net. is all about." - Melissa Shea, Founder of FashionMingle.net
New York, NY (PRWEB) September 02, 2013
Working with an experienced team of photographers, videographers, and fashion reporters, FashionMingle.net will be providing daily coverage featuring fashion designer interviews, backstage and behind-the-scenes commentary, and runway collections from Mercedes-Benz Fashion Week.
FashionMingle.net will be covering Mercedes-Benz Fashion Week with veteren photographers and videographers, Marco Gutierrez, Maryna Marsten, Jane Kratchovil, and Ashley Jo Wilson. The team will be providing their professional photos from backstage hairstyling, model preparation and from the runway press pit for use by registered NYFW Media Partners. Each day's video clips will be a part of FashionMingle.net's "Ticket to the Tents" series which will be broadcast daily across their NYFW Media Partner's websites and blogs.
The team will also have a full staff of content creators who will be interviewing celebrities and fashion week attendees in "The Tents" at Lincoln Center and be tweeting from the runway of all the top designers featured at Mercedes-Benz Fashion Week. Leading the team from inside the tents is Shalanda Turner, Style Editor for FashionMingle.net and founder of the Houston Bloggers Association. Shalanda will be providing daily trend reports from the runway as well as conducting interviews and producing content.
FashionMingle.net will also have an experienced on-camera fashion correspondent. Mara Smart of The Austin Socialite will bring viewers with her on her very first trip to Mercedes-Benz Fashion Week, sharing the excitement and surreal experience with their NYFW Media Partner audiences.
Those interested in becoming a NYFW Media Partner and receiving daily trend content, designer interviews, and the "Ticket to the Tents" video series should visit the FashionMingle.net website for more information.
About FashionMingle.net
FashionMingle.net is a network for fashion entrepreneurs to share, discover, and mingle. The online magazine, business directory, and social network create a platform for fashion entrepreneurs to promote their services and grow their business. More information can be found at FashionMingle.net.