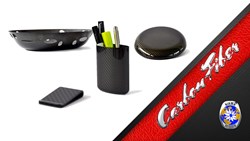 Regardless of whether you want something for your office or home, our pen holder and table bowl will accent any environment in addition to setting you apart from everybody else
Columbus, OH (PRWEB) September 03, 2013
Crowdfunding! Besides being a fairly new phenomenon, an Ohio based company is making use of it for the first time. NIAMA-REISSER, LLC is gearing its endeavors to raise $150,000.00 on http://www.indiegogo.com, by means of selling NR Design Carbon Fiber Furniture, Bathroom Fixtures and Accessories on INDIEGOGO. If you are interested in setting the bar and want own a unique, exclusive carbon fiber design piece, go right ahead! You can get NIAMA-REISSER, LLC carbon fiber products starting at $ 12.00 on http://www.indiegogo.com!
Carbon Fiber has been around for quite some time now, but the price and cost of production has stagnated its progression from the automotive and aerospace industries into the everyday consumer market. NIAMA-REISSER, LLC is wanting to change just that! Being an established automotive supplier for the past 6 years, with its own in-house engineering and manufacturing departments, its team was able to gain enough "know-how", so as to enable the designers to move more cost effective from concept to market.
Having developed its own proprietary process to convert MESH DATA into CAD DATA, the engineering department was capable to successfully analyze each and every design of the designers in terms of load bearing, etc.
Since 2008, NIAMA-REISSER, LLC has been diligently working on refining its clear coat for the bathroom industry, so that hair dyes, colors, etc. would not adhere to the upper most layer of coating. Starting in 2010, new additions to its carbon fiber product line have been regulars.
The Living Room Set comprises a Lounge Chair, Ottoman, Couch and Coffee Table.
You can dine in style as well! The Dining Room Set is comprised of a Carbon Fiber Table capable of seating eight along with matching chairs.
Want to feel fresh every morning? The bathroom fixtures include a self-supporting vanity, toilet, bathtub, etc.
According to the CEO –HEINZ-GUSTAV REISSER-, NIAMA-REISSER, LLC has introduced an accessory Carbon Fiber Product line to augment the crowdfunding campaign.
These accessories include a carbon fiber Plaque, carbon fiber Money Clip, carbon fiber Frisbee, carbon fiber Pen Holder and carbon fiber Table Bowl.
Reisser said: "Regardless of whether you want something for your office or home, our pen holder and table bowl will accent any environment in addition to setting you apart from everybody else. Become a part of the Carbon Fiber Movement: Making Exclusive Affordable!"
In addition, Reisser stated: "You will not find our Design, Quality and Price anywhere else. Our parts come with a serial number to identify each production run. Be sure, to know, that the parts were manufactured by a racing proven team and company, which supplies OEM automotive manufacturers with carbon fiber body panels and parts world-wide."
Not only are the parts manufactured in accordance to strict ISO standards, but they are unique!
The company is planning on expanding the business by having people pitch in to add one unique industry sector to our economy. By being able to successfully complete the INDIEGOGO campaign, NIAMA-REISSER, LLC is planning on hiring up to 12 more employees to handle the demand of carbon fiber products. The most crucial benefits of a successful campaign: "Being able to further reduce the cost of our products; on average about 50%"
Niama-Reisser, LLC plans to ship its products before the end of November, 2013. which is just five to six weeks after having been successfully funded through the Indiegogo crowdfunding campaign.
CARBON FIBER for everyone!
To make a donation to the crowd funding project and get a great CHRISTMAS Present visit
http://igg.me/at/niamareisserllc/x/3164136.
To view a video about the product visit http://www.youtube.com/watch?v=KEOQDrYk6GY&feature=c4-overview&list=UU8elIDogcOQgw4TQ2386yAA
For more information about the company visit http://www.niamareisser.com.
To contact via email write
admin(at)niamareisser(dot)com.