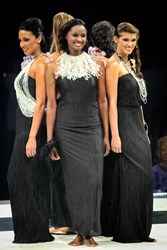 "It was wonderful to see my pieces on stage and to have the opportunity to share my haute couture jewelry designs with such a large number of guests and VIPs was a great experience." - Michele Pajak-Reynolds
Cleveland, OH (PRWEB) September 01, 2013
Couture jewelry designer Michelle Pajak-Reynolds, a native of the Cleveland Ohio area, had the privilege to be the first independent designer featured in the Pro-Football Hall of Fame's 50th Anniversary Enshrinement Festival Fashion Show Luncheon held at the Canton Memorial Civic Center in Canton, Ohio. The event started in 1963 with 300 guests and has grown to 3,500 attendees, making the Enshrinement Festival Fashion Show the largest fashion show in Ohio.
Michelle Pajak-Reynolds is a veteran of New York Fashion Week, showing her collection on the runway three times in the last two years. Her collection for the Pro-Football Hall of Fame event featured dramatic pieces from her Petals and Opulence collections set against black strapless knife-pleat maxi dresses worn by models walking the runway to Rihanna's musical hit Diamonds.
For Pajak-Reynolds, this was the first time to show her designs alongside national chains. "The Enshrinement Festival Fashion Show had a high entertainment aspect, which was a very different experience from my formal collection presentations at New York Fashion Week," says Pajak-Reynolds." "It was wonderful to see my pieces on stage and to have the opportunity to share my haute couture jewelry designs with such a large number of guests and VIPs was a great experience."
FashionMingle.net, a New York Fashion Week content producer, covered Michelle Pajak Reynolds during Nolcha Fashion Week in Februray 2012 and interviewed her for Runway Roadmap, an online webchat featuring fashion show experts who share their experience and advice from producing and participating in New York Fashion Week runway shows. Pajak-Reynolds recently agreed to become a contributor for FashionMingle.net sharing jewelry trends and care advice.
About FashionMingle.net
FashionMingle.net is a network for fashion entrepreneurs to share, discover, and mingle. The online magazine, business directory, and social network create a platform for fashion entrepreneurs to promote their services and grow their business. More information can be found at FashionMingle.net.