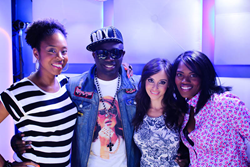 With BHL and Fashion 411 my fashion fan base now has a place where they can hear a male perspective on what celebs are wearing, which designers are hot and what's trending.
Los Angeles, CA (PRWEB) September 01, 2013
Black Hollywood Live, the world's first online broadcast network dedicated to African American entertainment news, interviews and commentary, is proud to announce that actor, host, model and fashion expert Sam Sarpong is co-hosting the network's #1 weekly series, "Fashion 411." Sarpong joins Diona Vaughan, Courtney Stewart, and Erika Garcia Rojas to give viewers and listeners the 411 on what's trending in the fashon world.
Sarpong was cast by BHL, amongst other reasons, for his extensive fashion credentials. In 2011 he was named one of the top 10 male models in the world by Mens' Fashion magazine. Fashion Group International named him one of the 75 most influential people in fashion. He has been the face of famous brands such as Tommy Hilfiger, Levi's, Ed Hardy and Ben Sherman and is featured in the major campaigns of two international brands, iconic "Boy London" and "Gesus Denim". In addition, Sarprong has been named as "Brand Ambassador" for Nelson Mandela's 4664 fashion. In October of this year, he flies to London to receive the "Icon In Fashion" award presented by BEFTTA. This prestigious award recognizes an individual with over a decade of excellent work in fashion.
A philosophy that guides him in life is that there is a direct connection between what a person wears and how they feel about themselves. As a result, he recently launched the Future Stars Collection with its first line known as "The Chosen One". The underlying message is that no matter what is happening in someone's life, they still have a future and have the potential to be a star in whatever endeavor they were chosen to pursue. This already hot line includes denim jackets, hoodies, tee shirts, underwear, fragrance and limited edition jewelry in collaboration with KD Luxe.
Not forgetting his titles of "Actor/TV Host", Sam has been quite busy in movies and TV as well as fashion. He has appeared in over 60 films including, "Love Don't Cost A Thing" with Nick Cannon, "Carmen Hipopera" with Beyonce and "Keeping Up With The Steins" with Jeremy Piven and more notably, the award winning film, "Anchor Baby" which screened at the Cannes Film Festival in 2011. He hosted MTV's hit show "Yo Mama" with Wilmer Valderrama for three seasons. This year he hosted behind the scenes for the BET Awards and presented two awards onstage.
Sam is excited to join "411" and says, "With BHL and Fashion 411 my fashion fan base now has a place where they can hear a male perspective on what celebs are wearing, which designers are hot and what's trending. I love my cast mates, we have great chemistry. I also wanted to come on board because Maria Menounos is such a smart business woman, anything she does is always successful."
"Fashion 411 is one of our surprise hits," says Keven Undergaro, one of the network creators. "To have someone of Sam's stature and talents along with Erika [Garcia Rojas], Dionna [Vaughan] and Courtney's [Stewart], BHL is truly blessed."
BHL Executive Producer Derrial Christian added, "Sam gives us yet another smart voice in helping us to achieve our collective goal to redefine Hollywood news."
Black Hollywood Live's Fashion 411 show airs live Fridays and is available for download the next day on iTunes and BlackHollywoodLive.com.