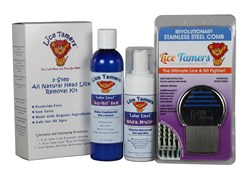 "There's so much misinformation about head lice out there, it's scary"
Melville, NY (PRWEB) September 03, 2013
As summer comes to a close and kids return to school, they may be carrying more than just books. Head lice outbreaks are very common at the beginning of the school year, but often go undetected or even worse, are often misdiagnosed. Lice Tamers head lice detection and treatment center partners with parents and schools to provide much-needed education on this pesky problem.
"There is so much information about head lice out there, its scary," says Melissa Levin, nurse practitioner and owner of Lice Tamers in Melville, NY. According to Levin, head lice are frequently missed or misdiagnosed. "Every day we have parents who show up to our treatment center with boxes full of useless remedies that were recommended to them for use on their children. We've seen everything from dandruff shampoos to creams for skin conditions - all because the children were misdiagnosed". Oftentimes these kids have been itchy for months. After seeing no improvement in the itching, the correct diagnosis often occurs at home by a horrified mom after she notices a bug fall out of her child's head.
To make matters worse, not only is head lice often misdiagnosed, it is frequently mistreated. Products laden with toxic pesticides, which were once the gold standard of treatment have become ineffective. "Lice have become resistant to most of these products," says Levin. In addition, she explains, that if you don't remove all the nits (eggs), you will never get rid of the lice. "We frequently see families who have been attempting to eradicate lice in their children for months. They think it's gone, only to realize two weeks later that it's back again!"
Lice Tamers can help alleviate your family of this pesky problem once and for all. Lice Tamers offers professional treatment at our Long Island based treatment center. For those who would like to treat their own families at home, Lice Tamers sells pesticide-free do-it-yourself lice removal kits as well as a full line of natural head lice prevention products.
Lice Tamers offers free educational presentations at schools to help educate parents and staff on the proper detection and treatment of head lice. For more information about their products and services, or to set up a presentation at your school, contact them at 631-479-2595, or go to http://www.licetamers.com.