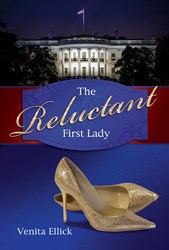 If a woman were elected president, would our nation expect her husband to be the official White House host?
Dallas, TX (PRWEB) September 09, 2013
BREAKING NEWS: First Lady Rejects the Role, President to Seek Replacement
The 65th Primetime Emmy Awards, hosted by Neil Patrick Harris, and airing live from the Nokia Theatre in Los Angeles on Sunday, September 22, on CBS, has tapped the newly released book "The Reluctant First Lady" (Brown Books Publishing Group) by Venita Ellick for inclusion in the 2013 Red Carpet Style Lounge.
Nominees including Tina Fey, Julia-Louis Dreyfus, and Edie Falco as well as Alec Baldwin, Jon Hamm, and Jim Parsons, are just a few of the many celebrities who will be taking home copies.
When the wife of newly elected president Michael Taylor, refuses to give up her position as the director of a prominent art museum in New York to take on the traditional role of First Lady, it ignites major controversy setting off a media and press feeding frenzy.
"With a premise that challenges both mind and emotion, "The Reluctant First Lady" is a fun, energy-charged read. Ellick provides a perfect balance of thought, action, and dialogue, along with well-timed backstory of the main characters, and she definitely gets the reader thinking, What if?" —ForeWord Reviews
When Ashley, the wife of president elect Michael Taylor, stands firm by her decision to continue as director of a prominent museum in New York, it triggers reactions from the public, news commentators, and even late-night comedians about whether the role of First Lady is a necessity. At the same time, Michael and Ashley wrestle with saving their marriage and preserving their professional lives - bringing to light how much the media influences the lives of public figures.
Drawing from her own experiences as a wife, mother, teacher, and principal to create her characters, Ellick's sense of humor and recognition of the absurd and often whimsical nature of life is refreshing and allows her to capture her characters' lives with authenticity and emotional resonance.
Ellick address the questions: When (if ever) should a woman have to give up or set aside her own professional career for the sake of her husband? How much should she give up for the person she loves? And would he be willing to do the same, if their positions were reversed?
"If a woman chooses to support her husband and become First Lady, I believe she must do so with the understanding that the public expects the full-meal deal," says Ellick. "If you look at past First Ladies, you'll see that none of them continued their careers while their husbands were in office. Personally, I think that expectation should change."
Ultimately, Ellick wants readers to consider these issues themselves. Should the president's wife have the right to choose whether or not she wants to accept the position? How does a woman maintain her career and still have a successful relationship? How much should anyone sacrifice for a partner's career?
To learn more, visit http://www.VenitaEllick.com
Books are available online, and in bookstore
About Brown Books Publishing Group
Brown Books Publishing Group is a premiere Texas- based independent publisher. To learn more, visit: http://www.Brownbooks.com
# # #