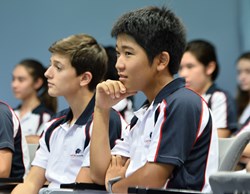 Stamford's goal is to prepare our students for entry into the best universities in the world. That's why we invited these university representatives to meet our students.
Singapore, Singapore (PRWEB) September 03, 2013
Stamford American International School (Stamford) hosted representatives of four top US Universities, all keen to attract the Singapore school's students to their institutions when they graduate from high school.
The representatives of Cornell University, Rice University, University of Chicago and Vanderbilt University each presented a case for studying at their prestigious institutions and shared general tips for exploring university options.
The visits are part of Stamford's College Counseling Program aimed at providing early preparation for students by informing them of their study choices and creating introductions to the best universities in the world. The program also includes individualized college counseling through which each student is assisted in finding a university that best fits them and their pursuits.
The four university representatives met with 21 students from Grade 9, answering questions about subjects offered and campus life.
"Choosing a university is one of the big decisions these students will make in their life. We believe that introducing students to universities at a younger age enables them to make goals and gives them time to think about how they will actually get there, " Ms. Leslie Tam, Head of College Counseling and Careers at Stamford said.
"Each of these universities has a reputation for excellence while offering a distinctive approach to learning."
"Stamford's goal is to prepare our students for entry into the best universities in the world. That's why we invited these university representatives to meet our students," Ms. Tam said.
Stamford opened its new campus on Upper Serangoon Road in 2012. At a cost of $300 million, the campus represents the largest Kindergarten to Grade 12 education project in the region. The new phase II development is slated to open in 2014 and includes a world-class Innovation Center where students and business leaders come together to solve problems, generate ideas and create intellectual property.
Stamford offers students the opportunity to graduate with US Advanced Placement credits, a High School Diploma, an International Baccalaureate Diploma and a way of thinking that makes them contributing citizens within a global community. The four universities that met with Stamford's students are:
Cornell University (New York State) - Founded in 1865, Cornell is the most educationally diverse member of the Ivy League. Once called 'the first American University", Cornell represents a distinctive mix of eminent scholarship and democratic ideals. Both a private university and a land-grant institution of New York State, Cornell's Ithaca campus alone has nearly 20,000 students representing every state and 120 countries and offers a choice from among 4,000 courses in 11 undergraduate, graduate and professional schools.
Rice University (Texas) - Opened in 1912 Rice is a preeminent research university with a distinct undergraduate focus. Its emphasis on education is demonstrated by a small student body and 5:1 student-faculty ratio, among the lowest in the top American universities including the Ivy League. The university has produced 101 Fulbright Scholars, 11 Truman Scholars, 24 Marshall Scholars, and 12 Rhodes Scholars. The university has a very high level of research activity for its size, with $115.3 million in sponsored research funding in 2011. Rice is noted for its applied science programs in the fields of artificial heart research, structural chemical analysis, signal processing, space science, and nanotechnology. It was ranked first in the world in materials science research by the Times Higher Education (THE) in 2010.
University of Chicago (Illinois) - One of the world's premier academic and research institutions, the University of Chicago (UChicago) has driven new ways of thinking since it was founded in 1890. One of the world's premier academic and research institutions, the University of Chicago has driven new ways of thinking since its 1890 founding. Today, UChicago is an intellectual destination that draws inspired scholars to its Hyde Park and international campuses, keeping UChicago at the nexus of ideas that challenge and change the world.
Vanderbilt University (Tennessee) - Founded in 1873, Vanderbilt University is an internationally recognized research university with strong partnerships among its 10 schools, neighboring institutions and the community. Vanderbilt offers undergraduate programs in the liberal arts and sciences, engineering, music, education and human development, as well as a full range of graduate and professional degrees. The combination of cutting edge research, liberal arts, nationally recognized schools of business and divinity and a distinguished medical center creates an invigorating atmosphere where students tailor their education to meet their goals and researchers collaborate to solve complex questions affecting our health, culture and society.
ABOUT STAMFORD
Stamford American International School (Stamford) is the benchmark for excellence in international education in Singapore. With its experienced team of educators, cutting-edge facilities and rich cultural diversity, there is no better way to prepare students for a competitive and fast changing world.
Stamford's academic curriculum prepares students for entry into the world's top universities. Stamford is the first school in Singapore to offer students both the International Baccalaureate (IB) and the American Education Reaches Out standards (AERO) – giving students an international experience with an American foundation. Stamford offers daily Mandarin and Spanish foreign language instruction, beginning from 2 years old.
Stamford's new $300 million campus at Upper Serangoon Road is the most advanced learning environment ever built. The new facility features state-of-the-art technology and facilities that establish it as the new benchmark for international schools around the world.
At a cost of $300 million, the campus is the largest investment in a Kindergarten to Grade 12 education facility anywhere in the region, and a major economic injection into the Singapore economy. The new campus is designed to be the perfect environment for preparing children for careers in the 21st century.
Key features of the school include:

iLEarn - Singapore's first interactive learning environment where guest lecturers and teachers from around the world can interact with students.
Singapore's first 1 to 1 iPad program for K2 to Grade 5, & MacBook Pros for Secondary School students
A 21st century Media Resource Centre - beyond the traditional library, this centre is up to date with the latest traditional as well as technological resources
State of the art science wing and computer laboratories
Comprehensive art facilities
World-class sporting facilities
Specially designed Early Years/Nursery facilities
Electronic security system