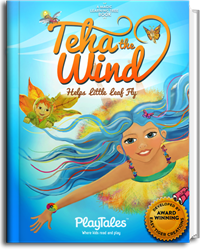 This story is a journey of self-discovery, demonstrates the value of teamwork, and shows children the importance of perseverance.
New York City, New York (PRWEB) September 03, 2013
The New Zealand based and award-winning educational entertainment developer, Easy Tiger Creations, in association with Geniosity Limited,, and world-leading interactive books developer, PlayTales,, announced today the global launch of the 'Teha the Wind' eBook series collection. "Teha the Wind" e-book collection features a unique heroine and nature based story concept; these books are a great tool for improving children's reading skills as well as teaching them fun facts about nature.
"Teha The Wind - Helps Little Leaf Fly" is the first book available of the imaginative nature based "Teha the Wind" story collection. "This story is a journey of self-discovery, demonstrates the value of teamwork, and shows children the importance of perseverance. 'Teha the Wind' uses the magic of nature to develop children's reading comprehension and confidence," comments Janine Burchett, Easy Tiger's co-writer and producer. "Easy Tiger's goal is to promote positive messages and fun learning experiences for children all over the world. PlayTales is the ideal platform for us to share our interactive stories, reach young readers, and showcase our characters in several languages," adds Jacky Laverty, Easy Tiger's co-editor and producer. "Teha and Little Leaf, our nature heroes, send a message to kids that magic exists in nature all around us. We are delighted Teha will be able to touch the lives of countless children worldwide, and that they'll be able to join our unique heroine on many exciting adventures through digital reading," say creatives Cherie and Bronwyn Knott. Easy Tiger Creations is an award winning children's content co-operative founded in 2004 and most well-known for its short film "Gabriel" which received numerous awards throughout Europe The group is currently working on the launch of its eBook collections for pre-schoolers Teha the Wind, Recycle Rob and Gabriel.
The Geniosity Limited Kids Group working "in association" with the Easy Tiger Creations team identified the opportunity to introduce the Teha characters and brand to the global marketplace through PlayTales, providing overall business and production services to the project. Gina Ross, Geniosity Kids Group Producer for the Teha-The-Wind series adds, "When we saw Easy Tiger's great concepts and unique designs, we enthusiastically engaged with this talented group to produce the series. We teamed up with PlayTales for the digital publishing and distribution of our Teha stories because we felt their localization efforts and multi-platform distribution experience would be a perfect fit."
With over 5 million global downloads, top 5 rankings in over 20 countries, and interactive stories and activities in 8 different languages, PlayTales has become one of the world's leading children's digital content developer for all major mobile platforms. Enrique Tapias, PlayTales' CEO, also comments on the launch of the new story, "As soon as we saw the illustrations and story concept for the "Teha the Wind" collection we knew we wanted it to be featured in PlayTales mobile applications. Easy Tiger has a great team of experts in children's education and their story collection will be a wonderful addition to the PlayTales catalog."
For more details on "Teha The Wind: Helps Little Leaf Fly," visit the PlayTales Blog. The "Teha the Wind" story collection is available in English, Spanish, and German and can be downloaded through PlayTales mobile applications; iOS users can download stories using their subscription to PlayTales Gold or purchase the books individually in PlayTales' bookstore application. Android, Nook, and Kindle users can also purchase the stories individually in the upcoming weeks through the PlayTales mobile app which is available on Google Play, NOOK App Store, and the Amazon Appstore.
About PlayTales:
PlayTales is a wholly-owned subsidiary of Genera Interactive, an internationally based multi-platform mobile entertainment and utilities provider with offices in USA, UK, Spain, Romania, and China. Founded in 2010, PlayTales develops and distributes interactive children's books within its award-winning bookstore apps. PlayTales applications can be downloaded from Apple's App Store,Google Play, Amazon.com, and Blackberry App World. Like PlayTales on Facebook.com/myPlayTales and follow them on Twitter @PlayTales. Learn more about PlayTales interactive stories at playtales.com.
Contact:
Kate Shoaf
kate(at)playtales(dot)com
About Easy Tiger Creations:
Founded in 2004 and based in Auckland, New Zealand, Easy Tiger Creations is an independent edu-tainment company that conceives and produces high quality, multi-platform educational entertainment for children. After its launch the group experienced immediate success with the international award-winning children's short film 'Gabriel' (Best Shortfilm: Giffoni Hollywood, Giffoni Italy, Short Film Festival Jugend&Kinder Oberhausen Germany). Easy Tiger has now begun new projects with its 2013 publishing platform 'The Magic Learning Tree' and is currently creating and producing children's books and interactive E-Books that educate kids while entertaining them, helping them develop self-esteem, confidence and love of learning. easytigercreations.com
Contact:
Jacky Laverty
Jacky(at)easytigercreations(dot)com
About Geniosity Limited:
Established in 2009, the Wellington, New Zealand based company features a team consortium of international industry associates—award-winning directors, writers, animators, next-gen technologists and biz specialists that create, develop and commercialize TV, Film, Animation, Music and New Media properties through funding, management, production and marketing for global multi-platform distribution. geniositymedia.com
Contact:
Geniosity Press Team
team(at)geniositymedia(dot)com