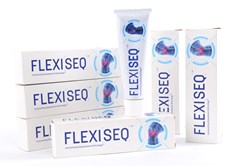 In parts of Europe, more people die from the effects of NSAIDs than in road accidents.
Vienna, Austria (PRWEB UK) 3 September 2013
Currently, sufferers of Osteoarthritis, a painful and chronic disease, have a limited number of options. Beyond changes in lifestyle, the key treatments are Non-Steroidal Anti-Inflammatory Drugs ('NSAIDs'), which have potential side effects including gastric bleeding and cardiovascular complications, which can involve hospitalisation and even death in both cases. In parts of Europe, more people die from the effects of NSAIDs than in road accidents. In the longer term, surgery for OA is an option but again, requires hospitalisation and is very expensive.
An alternative treatment is urgently required. FLEXISEQ™ is that treatment.
Dr Burkhard Leeb, Senior Consultant and member of the management board of the II Medical Department in the Korneuburg-Stockerau Regional Clinic said: 'Globally and in Austria, OA is the second biggest cause of disability. Patients with OA suffer from pain and stiffness. Existing treatments do not always work and indeed are unsuitable for many patients with OA, due to their other conditions or the other medications they take. There is therefore a definite need for new treatment approaches and I welcome the introduction of FLEXISEQ™ in Austria and look forward to hearing feedback from our patients.'
Mrs. Gertraud Schaffer, President of the Austrian Rheumatism League (ÖRL) welcomed the launch of FLEXISEQ™ in Austria: 'Almost every second Austrian will be diagnosed with arthritis in the course of their lives. The frequency of arthritis increases exponentially from the age of 55 onwards. This means a life full of pain, medicines, side-effects and restrictions for those affected. If a safe, optimal form of therapy existed for these people with the new alternative, this possibility would be very welcome to everyone. If, apart from the medicine groups already available (which cannot be used for everyone on account of side-effects or incompatibilities), a FLEXISEQ™ gel was on the market, this would be an alternative that would mean a new experience of life associated with a better quality of living. Many sufferers have desired an alternative pain treatment for a long time. I hope many people will be able to benefit from this new product. I am very much looking forward to additional studies and their results both with regard to doctors and those affected.'
Martyn Smith, of Pro Bono Bio, who manufactures FLEXISEQ™ said, 'I am delighted we have launched FLEXISEQ™ in Austria. I trust FLEXISEQ™ will make a real difference to patients' quality of life and assist patients in avoiding the side effects of other treatments (such as diclofenac for which the European Medicines Agency recently issued an updated health risk warning) (1). Newspapers around the world have referred to FLEXISEQ™ as a 'Wonder-Gel' (2) and I hope it gains that status in Austria.'
Why FLEXISEQ™ is ideal to fill the treatment gap
Dr Matthias Rother demonstrated at the launch event that the effect of FLEXISEQ™ is on a par with leading drugs (celecoxib) for the treatment of osteoarthritis in his talk on the new gel's clinical study of which he is a co-author (3). He pointed out the superior safety profile of FLEXISEQ™ for use in pain relief for chronic joint pain in osteoarthritis as a long term treatment. Dr Rother also pointed out the problems in traditional osteoarthritis therapy. The most widespread is the use of non-steroidal anti-inflammatory drugs (NSAID) such as diclofenac and ibuprofen or also the closely related substance category of the coxibs. This was demonstrated recently in a large meta-analysis in the prestigious specialist journal The Lancet, which highlighted that cardiovascular and gastrointestinal diseases appear more frequently under therapy with NSAIDs and also the number of cases of death is increased (4).
Professor Philip Conaghan, from the University of Leeds and lead author of the key clinical study in 1,395 patients, published in the important journal Rheumatology said: 'Most people with osteoarthritis live with chronic pain that interferes with their daily activities. Many can't take or can't tolerate current oral analgesics because of side effects. There is therefore a huge unmet need for effective and safe analgesics for osteoarthritis. The new study is interesting because it suggests that a novel topical therapy, that doesn't include a topical anti-inflammatory drug, may help osteoarthritis pain'.
Professor Wolfgang Bolten, Wiesbaden Germany, another co-author of the study, highlighted the relevance of its findings for the population of cardiovascular patients also suffering from osteoarthritis and at risk from (NSAID) related side effects: 'For topical FLEXISEQ™, the study showed the same pain and stiffness reducing qualities as oral celecoxib. As it does not contain any NSAID (or other pharmaceutical ingredient), side effects are very rare and it does not interact with other drugs. Therefore the many elderly osteoarthritis patients with cardiovascular problems, in which NSAIDs are contraindicated, can be treated at low risk.'
Award-winning innovation: The Sequessome Technology®
The innovation of FLEXISEQ™ is the Sequessome™ vesicles which are ultra-deformable phospholipid spheres contained within the FLEXISEQ™ gel. Due to their great hydrophilicity, as the gel evaporates on the skin, they penetrate through the skin's intercellular spaces into deeper tissue layers. They penetrate into the synovial fluid and lubricate the surface of the damaged cartilage, the natural lubrication of which is depleted in patients with OA. This leads to pain relief and an improvement of the joint function.
This innovative approach of the Sequessome Technology®, developed in Germany, received the Innovation Award 2013 from the German National Association of Pharmacists, Bundesverband Deutscher Apotheker, in January.
Study proves: FLEXISEQ™ works just as well as oral Celecoxib
Through a comprehensive clinical programme, the good efficacy of the medical device FLEXISEQ™ was proven. In one key study against celecoxib, pain relief was reported after just two days of use and the study demonstrated that twice-daily use of FLEXISEQ™ improved pain, joint function and joint stiffness just as well as twice-daily use of 100 mg Celecoxib, an NSAID commonly prescribed for chronic pain.
About Pro Bono Bio®
The manufacturing company of FLEXISEQ™, Pro Bono Bio, is an international healthcare company. Founded in 2011 by Anglo-Russian owners from Celtic Pharma, it obtained the worldwide commercial rights to Sequessome Technology® in 2011. FLEXISEQ™ was developed in Germany and came onto the German market in the first half of the year 2012. Soon afterwards, it was introduced in Malaysia, and the innovative gel has also recently been made available in Ireland. It is being received with great enthusiasm and used successfully and extremely gratefully by the patients there. FLEXISEQ™ will also soon be brought to other European countries and other geographies before the year end.
Moreover, the company also has further products in the area of dermatology that were developed based on Sequessome Technology® in the pipeline.
Safety
In clinical trials there were no health issues associated with long term use of FLEXISEQ™. Sequessome™ constituents that lubricate the joints are designated as GRAS (Generally Recognised As Safe) by the US FDA.
Mode of Action
By means of a completely new technology, Sequessome Technology®, the drug-free medical device has a purely physical effect: tiny phospholipid spheres penetrate through the skin and into the affected joint where they lubricate the cartilage surfaces, supplementing the natural lubricants in the affected joint which are depleted in OA.
Notes to Editors:
The prevalence of osteoarthritis in Austria was determined in a representative, population-based study with 15,474 participants (5).The prevalence of osteoarthritis was 11.9% in men and 18.6% in women. Furthermore, 73.4 % of affected men and 74.9 % of women reported significant pain in the last 12 months which demonstrates that existing treatments do not meet the needs of all patients. The osteoarthritis had a clearly negative influence on the quality of life of the persons affected. This shows the urgent need for a side-effect–free therapy that can be used in the long term, emphasised Dr Leeb.
The Lancet findings even go beyond the warnings of the EMA (European Medicines Agency), which had pointed out the risks of a treatment with diclofenac in July of this year. Accordingly, the use of diclofenac is contraindicated in patients with existing cardiac insufficiency, ischaemic heart disease, peripheral artery disease or cerebrovascular disease due to the increased risk of arterial thrombotic events. According to the Lancet study, the frequency of cardiac insufficiency is virtually doubled through all NSAIDs. Gastrointestinal events such as perforation, obstructions or bleeding are also clearly increased through taking celecoxib, diclofenac, ibuprofen and naproxen. 2% of the gastrointestinal complications ended fatally.
References
1. EMA/380947/2013. http://tinyurl.com/karbg6u.
2. Daily Express (London) April 2013 http://tinyurl.com/pofhd6k, Irish Mirror (Ireland) August 2013 http://tinyurl.com/lq3tj6w.
3. Philip C. Conaghan et al.: A multicenter, randomized, placebo- and active-controlled trial comparing the efficacy and safety of topical ketoprofen in Transfersome gel (IDEA-033) with ketoprofen-free vehicle (TDT 064) and oral celecoxib for knee pain associated with osteoarthritis, in: Rheumatology (2013) doi: 10.1093/rheumatology/ket133. http://tinyurl.com/q7vqcrn.
4. Coxib and traditional NSAID Trialists' (CNT) Collaboration. Lancet. 2013 May 29. doi:pii: S0140-6736(13)60900-9. http://www.ncbi.nlm.nih.gov/pubmed/23726390.
5. Thomas Ernst Dorner, Dr. Mag. Katharina Viktoria Stein, Wiener Medizinische Wochenschrift May 2013, Volume 163, Issue 9-10 pp 206-211. http://tinyurl.com/qad4vhj.
About Pro Bono Bio®
Please refer to http://www.probonobio.com .
About FLEXISEQ™
Please refer to http://www.flexiseq.com .