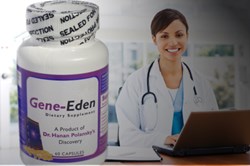 HCMV is associated with significant morbidity in those with weak immune systems. As a result, we feel that anti-HCMV treatments should have a high priority in drug development. - MIke Evans, polyDNA
Rochester, NY (PRWEB) September 03, 2013
polyDNA announces that a new clinical study has provided evidence for the safety and effectiveness of Gene-Eden-VIR in the treatment of the Human Cytomegalovirus (HCMV) infection (1). The study was published in the peer reviewed, medical journal Pharmacology & Pharmacy, in a special edition on Advances in Antiviral Drugs.
Study authors wrote that, "individuals infected with HCMV … reported a safe decrease in their symptoms following treatment with Gene-Eden-VIR (1)." The study authors also wrote that "We observed a statistically significant decrease in the severity, duration, and frequency of symptoms (1)."
Other oral treatments for the cytomegalovirus are used primarily in immunocompromised patients. Studies show that HCMV quickly develops drug resistance to the oral treatments currently available. These drugs include ganciclovir, its oral prodrug valganciclovir, cidofovir, foscavir and fomivirsen. As a study published in February 2008 in the journal Current Opinion in Investigational Drugs notes, "Their use is limited because of toxicity, poor oral bioavailability, modest efficacy and the development of drug resistance (2)." No drug has been licensed for use in the treatment of congenital HCMV.
In contrast, Gene-Eden-VIR was shown to safely reduce HCMV symptoms in the general population with no evidence of toxicity. In fact, study participants "reported no side effects after taking Gene-Eden-VIR (1)."
Mike Evans of polyDNA said, "We believe in strategies that target the latent HCMV. HCMV is associated with significant morbidity in those with weak immune systems. As a result, we feel that anti-HCMV treatments should have a high priority in drug development. We're happy that we were able to contribute to that effort. And, we are delighted that we were successful. We were able to both develop Gene-Eden-VIR, and prove that it reduces symptoms in those with an HCMV infection safely and effectively."
To view the entire paper on Gene-Eden-VIR, visit: http://www.scirp.org/journal/PaperInformation.aspx?PaperID=36101
We invite the media to contact us for interviews at: info(at)buy-gene-eden(dot)com or phone 585-250-9999.
To learn more about Gene-Eden-VIR, visit http://www.gene-eden-kill-virus.com. All orders of Gene-Eden-VIR are completely confidential, and no information is shared or sold to any third party. Privacy is assured.
References:
(1) http://www.scirp.org/journal/PaperInformation.aspx?PaperID=36101
(2) http://www.ncbi.nlm.nih.gov/pubmed/18246516
polyDNA is a biotechnology company that develops dietary supplements using the unique scientific method developed by Dr. Hanan Polansky, which is based on Computer Intuition.
In addition to his unique scientific method, Dr. Polansky published the highly acclaimed scientific discovery, called Microcompetition with Foreign DNA. The discovery explains how foreign DNA fragments, and specifically, DNA of latent viruses, cause most major diseases.
polyDNA developed Gene-Eden-VIR, an antiviral natural remedy that helps the immune system kill latent viruses.