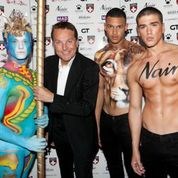 (PRWEB UK) 2 September 2013
Perhaps the biggest surprise of the night came when Strictly' s Robin Windsor, 'dared to bare' egged on by two of his co-hosts and ex celebrity dancing partners; Lisa Riley and Anita Dobson. As cash flew into the collections bucket, Robin's clothes flew off, and all in the best possible taste.
West End Bares, which was presented in association with Nair, played two shows to enthusiastic audiences and were guided expertly through the night with the comedic brilliance of Mr Brian Conley and the always fabulous and sparkly Jane McDonald, who herself collected plenty of cash on stage during the now infamous 'Rotation'.
Alongside Harriet Thorpe and her fantastic onstage persona as the 'Official Padding Inspector' a great night was had by all.
During the show, the audience was treated to a catwalk from the charities Pants Project, which this year has seen 10 west end show wardrobe departments and celebrities such as Kate Winslet, Emma Thompson, Graham Norton and Joanna Lumley, customize and sign boxer shorts which can be bought on Ebay by searching 'West End Bares' for the next 7 days, with all money raised going towards the charities education work.
The last word of the night however went to the Artistic Director, Darren Carnall who said, "West End Bares is a chance for the finest performers, technicians, choreographers and costumiers to come together, raise funds for a great cause and show why British Theatre continues to be amongst the best in the world".