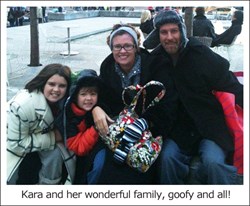 The Merryam series is a constant reminder of what is important in life. Our kindness to each other is one of the most valuable lessons we can learn.
Jacksonville, FL (PRWEB) September 03, 2013
Kara Anderson, a small business owner, breast cancer survivor and mother of two, introduces Merryam, an elf that lives at the North Pole and works with Santa to teach children the power of compassion and prayer. The book is paired with an interactive cloth calendar that allows families to share gratitude and blessings each day.
Author, Kara Anderson, is releasing the latest book in the Merryam series. Merryam's Elfun Adventures is the story of Merryam, an elf that lives at the North Pole. Merryam's Elfun Adventures is the second book in the series that encourages kindness and generosity all year long through the stories of what happens after the Christmas season. The 64 page hardcover book teaches kids to be heroes and helpers to those in need by introducing them to the activities at the North Pole after Christmas. There are many secrets to be told in the latest book and the story focuses on kindness and generosity throughout the year, not for just one season. Find out about a small pocket elf named Pieper who hides in Santa's pocket, hear about the Great Memory tree that holds lists and letters from Christmas' Past, learn how the big department stores order all their toys for the holidays and find out about a Kindness Counter that Santa has to keep track of good deeds children do and so much more.
Anderson explains, "Family traditions are fading in today's society and when a family crisis strikes like a mom getting breast cancer, the need for positive messages, making memories and finding comfort through celebrating every day rises to an all time high. Merryam's Elfun Adventures and the interactive calendar work to connect families and friends through a lifetime tradition that warms the heart."
For children, the book provides fun and entertainment and true life lessons and reveals many secrets of the North Pole. Merryam offers a positive message and the book paired with the interactive cloth calendar with message pockets are a fabulous resource for every family, teacher or children's church worker. Our lives are busy and Kara Anderson has created a simple yet perfect way to teach children and remind adults to pray and encourage others.
The most important part of the Merryam tradition is that families are enjoying this together and make time to engage each other daily. All of our worries and happiness are recorded just by the notes we place in the pocket every day. The notes are then saved for years to come. Memories are cherished forever.
Merryam's Elfun Adventures and the Celebrate Everyday interactive calendar are both available online at http://www.Merryam.com and on Ebook. The book is sold for $12.95 and the calendar/book package is sold for $45.00. The first book Santa's Secret Elf has an interactive Countdown to Christmas Calendar with message pockets that are a perfect addition to the holidays.
During the month of September 25% of all sales through the website, http://www.Merryam.com, will be donated to the Thumbs Up for Lane Foundation to help bring awareness and support the efforts to fight childhood cancer. The first book in the Merryam series, Santa's Secret Elf, raised almost $1000 in a similar fundraiser.
About Kara Anderson:
Kara Anderson is a wife, mom of two and business owner that survived a breast cancer diagnosis at age 39. While going through chemotherapy her 5 year old son sat on Santa's lap and told him all he wanted was to make his mommy well. With tears in both their eyes a book was born. While driving home Kara began to tell the story of Merryam a special elf that handles all the letters asking for things that Santa could not deliver. Merryam would pray for what the children need and of course Santa would make the toys and games they want. The first book is a soft cover book and is called Santa's Secret Elf. Anderson continues to write new adventures for the Merryam series and create new ways for families to be reminded that each day is a blessing and we should be grateful for all that we have. Kindness towards others is a wonderful gift that is free to give.
Merryam's Elfun Adventures offers a website with free games, crafts and activities. Children are able to send letters to Santa during the Christmas season and letters and prayers to Merryam during the year.
For more information about Merryam's Elfun Adventures, please visit http://www.Merryam.com or contact Kara Anderson at (904) 238-0757 or at Info(at)merryam(dot)com. Kara Anderson is available for interviews, readings, and book signings.