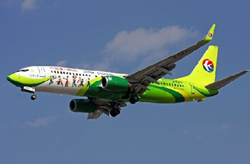 (PRWEB) September 02, 2013
Tibet's leading airline Tibetan Airlines has launched a new flight linking Shenzhen and Lhasa via Chengdu.
Two flights TV9847 (Lhasa-Shenzhen) and TV9848 (Shenzhen-Lhasa) are scheduled to fly once a day and stop over at Shuangliu Airport in Chengdu, capital city of southwest China's Sichuan Province.
Shenzhen is a major city in the south of China's Guangdong province, situated immediately north of Hong Kong.
Meanwhile, Explore Tibet, a Lhasa-based Tibet tour company, is now offering a multi-experienced tour to Tibet.
The 6-day tour includes a trip to Tibet's capital, Lhasa, as well as rafting, trekking and horse riding in the mountains.
The highest region on Earth, Tibet has an average altitude of 4,900 metres and some of the world's tallest mountains, including Mount Everest, on the border with Nepal. The region is also the source of some of the world's major rivers, including the Yangtze, the Yellow River, the Indus, the Mekong and the Ganges.
"This trip collects all the best possible cultural interactions with locals," Explore Tibet have said. "As well as striking experiences on the high plateau within a short period."
Due to the coming Tibetan New Year and Chinese lunar New Year in February, the new 128-seat Tibetan Airlines flight will face a busy schedule.
Explore Tibet, a Lhasa-based local travel agency has successfully obtained permits for groups in April, May, June, July and August, but restriction on permit application is still unchanged, all permit files must be submit at least 15 days before the tour starting date, so you should plan your Tibet tour ahead of time and last minute booking is not workable in this period. Moreover, it is difficult to get the permit for Norway nationalities.
Explore Tibet is a locally-owned travel agency committed to responsible tourism, Tibet permit and sustainable practice.