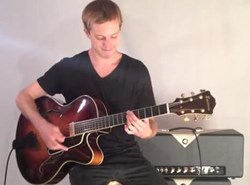 (PRWEB) September 02, 2013
Guitar Control, the leader in comprehensive DVD-based courses and on-line lessons, has released "Jazz Guitar Lesson -- Jazz Chord Voicings with Common Tones for Ending a Tune" the latest in their series of free instructional videos that are available on YouTube.
The guitar is a somewhat complex instrument. Unlike a keyboard, where the notes are arrayed in linear fashion, on a guitar the exact same note appears in several places on the fretboard. That can be confusing for beginners, but that complexity gives a player incredible flexibility, allowing him or her to produce multiple variations of what is nominally the same chord. Those different versions, played on different locations of the fretboard and often with a different combination of strings, are called Voicings, and provide guitarists with an almost infinite range of musical possibilities. Although every chord is by definition a voicing, Jazz players strive to find distinct (some might say obscure) voicings that address the creative nature of improvisational music.
In "Jazz Guitar Lesson -- Jazz Chord Voicings with Common Tones for Ending a Tune," Jon MacLennan demonstrates a chord progression, derived from some cool Jazz chords, that provides a classy ending to a tune. In his example, Jon uses the versatility inherent in the guitar fretboard to build each chord voicing around a recurring F note, thus giving the progression its lovely tonal cohesion as it moves from place to place on the fretboard. In this case, the F notes are different, as they would be on different sections of a keyboard, but the recurrence of the F note is what binds the progression together. And although the lesson suggest it be used as an ending, it could be an intro as well, if you leave out that last "resolution" chord.
A highly respected session musician, Jon MacLennan has composed music for films and television, has recorded three albums, including the 2013 release "Songs From Box Canyon," and is an accomplished educator, having held a private guitar instructor's chair in the Department Of Music at Los Angeles Pierce College. His smooth, professional, approach and friendly conversational manner, make his lessons easy to digest.
Guitar Control is a consortium of professional guitarists dedicated to providing the highest quality musical instruction. Producing both web-streamed lessons and comprehensive multi-DVD courses, Guitar Control offers instruction for every style of playing and for all musical genres. Guitar Control's YouTube channel offers 372 (and counting) free video lessons.
These voicings are musically more complex than the first position chords that beginners learn, but following along with the tabs (tablature notation that is available for printing) shows that these voicings are not difficult to master. Best of all they produce an unmistakably jazzy sound.